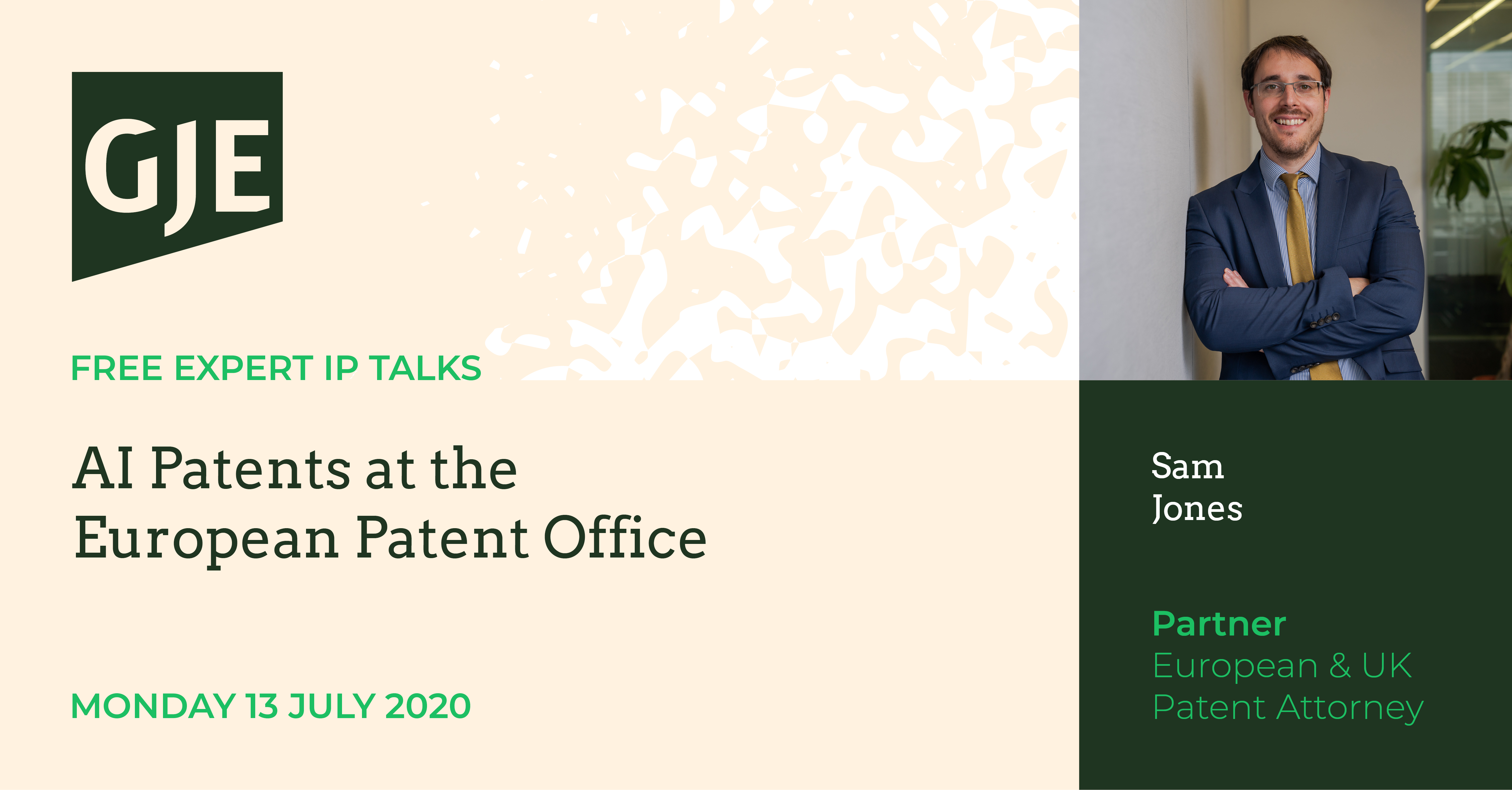 Monday 13th July 2020, 2:00pm (London UK – BST) 45mins
What will the talk cover?
Computer technology is one of the fastest growing fields for patent filings at the European Patent Office.  This talk in the series will build upon the introduction to computer technology given by Scott King and focus in on a particular aspect of computer implemented invention – those powered by artificial intelligence (AI), such as machine learning tools.
We recognise that the requirements of every computer tech company are different.  This will be explored through touching on some key patent strategy considerations, such as when to file a patent to an AI invention and when to keep details of the AI secret.
In this webinar we will also discuss the various types of AI invention according to the classifications established by the European Patent Office and give some guidance as to how to protect each type.
Who will be speaking?
Sam Jones is a senior associate at GJE specialising in the patent protection of computer-implemented inventions in Europe.  Sam works with a wide range of clients from small start-ups and individual inventors to multinational corporations in the UK and Europe.  He drafts and prosecutes European, UK and foreign patent applications, in addition to helping his clients obtain registered design protection.
A large bulk of Sam's work at GJE involves computer-implemented inventions, increasingly incorporating some form of AI.  In order to really understand the challenges his clients are facing in this area, he has written a character recognition program that makes use of a support-vector machine algorithm to learn how to recognise a randomly selected capital letter arranged at a random size and orientation.  The experience enabled him to gain insights into the difficulties his clients face in the implementation of AI tools, as well as revealing the particular areas of AI in which patentable inventions are likely to be generated.
Sam has provided a seminars to the legal teams of a large multinationals relating to the patentability of AI at the EPO, and has also presented to numerous start-ups on this topic.