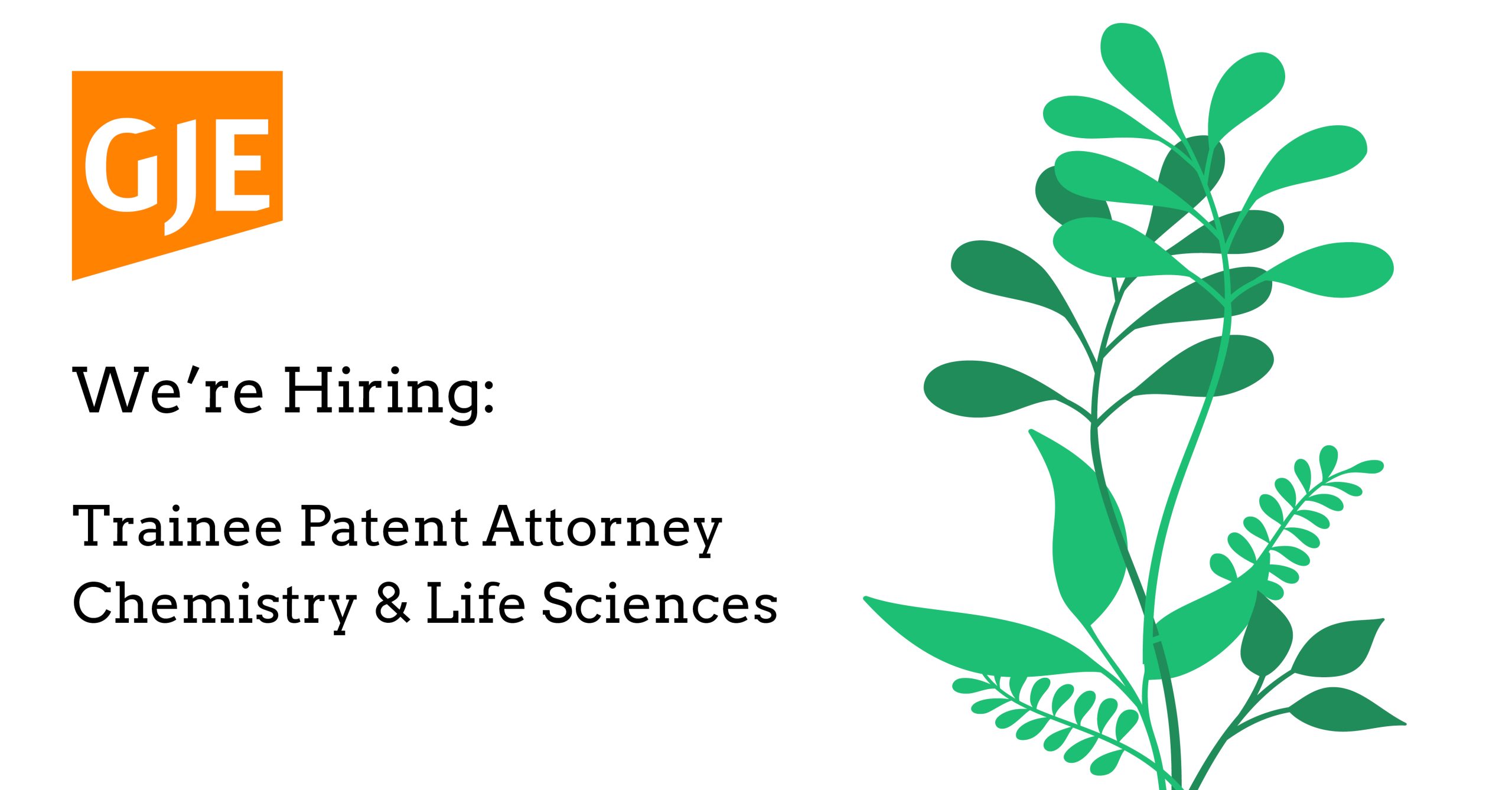 Posted: 5 July 2023
Deadline: 30 September 2023
Type: Fee Earner
Location: London
Salary: Competitive
Level: Entry Level
Hours: 35
Benefits: Competitive
Trainee Patent Attorney (degree: chemistry, molecular biology, or biotechnology)
We are looking for ambitious chemistry, molecular biology, or biotechnology graduates to join our successful and expanding Chemistry and Life Sciences practice group to start in September 2024.
Becoming a trainee Patent Attorney at GJE will start you on a fulfilling career journey towards full qualification as a European and UK Patent Attorney. You will apply the technical knowledge and expertise gained from your degree to your role in which you will gain skills in patent drafting, filing and prosecution.
You can expect to work with a wide range of exciting clients right from the start of your training – Multinational corporations like Proctor & Gamble, Snap Inc., and Oracle, alongside SME's, start-ups and University Spin-Outs. You will be mentored and guided by our expert attorneys who are at the top of their game, and supported by friendly and collaborative colleagues.
About Us
GJE LLP is one of the UK's leading intellectual property firms and is consistently recognised by the leading UK legal directories. We are based in modern offices in London's Broadgate Tower where the City of London meets vibrant Shoreditch. Our firm has a clearly defined strategic vision for where we are heading and an impressive track record to match. There are around 120 of us in our London office, so we're small and friendly enough for you to get to know everyone – but big enough to offer you great career prospects.
Training and Mentoring
Our exceptional training programme will provide you with a year of on-the-job learning before enrolling you for the Postgraduate Certificate in Intellectual Property Law. Ultimately you will be working towards qualification as both a European patent attorney and a Chartered (UK) patent attorney. You will be exposed to real responsibility early on in your training, allowing you to acquire the skills you need to grow into a successful patent attorney and achieve great things.
We support you in these studies through external courses and our extensive in-house training programme. You will also greatly benefit from mentoring and coaching by our industry-leading and approachable senior attorneys, who are always happy to help.
You can find further information about our graduate career journey here.
Life as a Trainee Patent Attorney at GJE
Alongside working and studying for your professional exams we encourage you to get involved with areas of the business that interest you such as marketing and BD activities, Diversity and Inclusion initiatives and planning events with GJE's social committee. Our open door policy means that senior staff are always interested in hearing feedback on our internal processes.
We offer a competitive salary (reviewed annually and upon exam success), hybrid-working great benefits & perks and a whole host of regular social events and wellbeing initiatives. We're a friendly and supportive bunch and we think GJE is a great place to work – we have been recognised by Best Companies as a top 25 law firm to work for!
About You
Our Trainee Attorneys are vital to our success.
We pride ourselves on our people and look for top graduates who demonstrate a passion for science and engineering who can contribute to the continued development of our business.
As a minimum requirement, the successful candidates will fulfil the following criteria:
Degree in chemistry, molecular biology or biotechnology (2.1 or 1st);
High academic achievement (mainly As and A*s in GCSE & A Levels or equivalent qualifications);
Effective communication skills; and
Excellent attention to detail.
You will be exposed to a diverse range of cases and clients right from the start, so excellent communication skills are a must. You should also have the ability and confidence to build effective working relationships and be able to offer straightforward and practical advice to your clients.
Equal opportunities and diversity are important values of GJE and we encourage applications from all suitably qualified persons irrespective of gender, age, disability, religion, belief, sexual orientation, marital status, or race.
If you have any special requirements, please contact us to ensure that we can make any required adjustments for the interview. You can contact us at careers@gje.com.
You will join a hard-working, professional and fun workplace, which will allow you to unleash your potential as a future Patent Attorney.
To Apply
Ensure that you apply directly to us via our recruitment portal, in addition to your CV, please send a covering letter detailing your motivation for a career in patent law. Please ensure that you provide full details of your qualifications, including grades, in your application.
We do accept applications via third party websites/job boards.