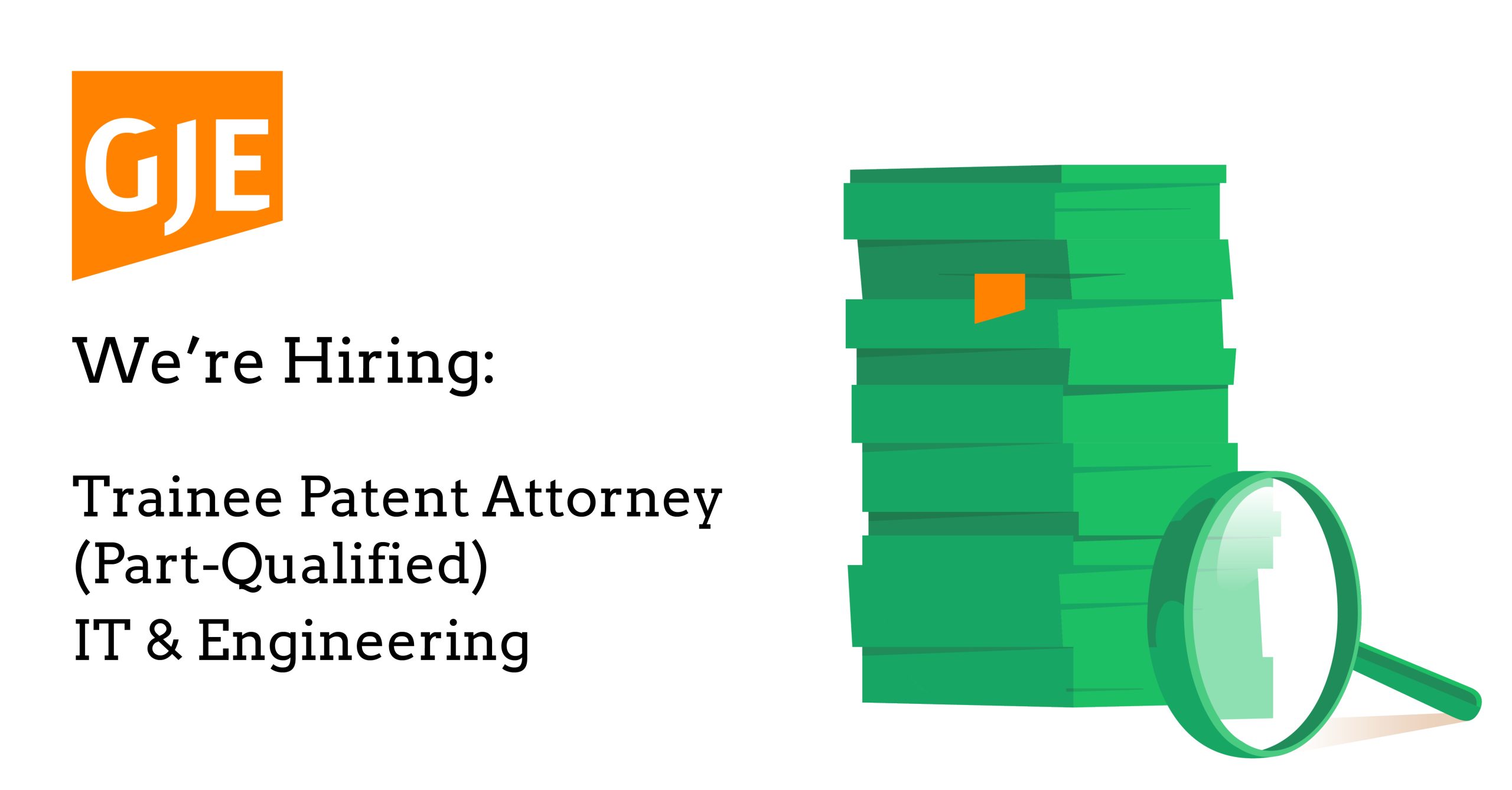 Posted: 22 May 2023
Deadline: 20 August 2023
Type: Fee Earner
Location: London
Salary: Competitive
Hours: 35
If you are a part-qualified patent attorney working in the IT & Engineering space and are looking for great training, a wide variety of work and a collaborative working environment, we have an opportunity that may be of interest.
The role
You will be involved in the drafting and prosecution of UK and European patent applications for a range of domestic and international companies, giving you a broad spectrum of interesting work. You will gain experience in a full range of direct client work and as you gain experience and pass your professional exams, this will include oppositions before the EPO, contentious matters and providing strategic IP advice to our clients.
Opportunities for career development and training make up a big part of our success. At GJE, we'll support you to develop your skills and advance your career. We will help you play to your strengths and develop experience in areas that interest you, which will add value to the business and help us build upon its success.
Why GJE?
GJE can offer you a unique opportunity to carve out a career that plays to your individual strengths.  We promote creative thinking and collaboration so everyone can be involved in a variety of projects and contribute to the firm's success.
Our culture means you will receive clear feedback, direction and the resources you need to organise your own professional development through external courses and professional examinations, webinars and workshops and internal training and support.
As well as offering a competitive salary, a wide range of benefits and excellent career development awaits you at GJE.
Person Specification
As a minimum QM/Foundation/equivalent
Relevant degree such as physics
Experience in drafting and prosecution
Strong client care skills
Commercial awareness
Ability to meet deadlines and use initiative
Excellent attention to detail
Good communicator
About GJE LLP
GJE LLP is one of the UK's leading intellectual property firms and is consistently recognised by the leading UK legal directories. We are based in modern offices in London's Broadgate Tower and Munich. Our culture is friendly, supportive, and collaborative. We offer a competitive salary, hybrid working, excellent benefits, and a whole host of regular social events and wellbeing initiatives. We think it's a great place to work!
There are three core practice groups: 1. trade marks, 2. chemistry & life sciences (patents) and 3. IT & engineering (patents). We have built a strong and diverse client base working closely with entrepreneurs, universities, SMEs, multi-nationals and legal firms worldwide.
Our success is down to the people we employ
Our firm has a clearly defined strategic vision for where we are heading and an impressive track record to match. There are around 120 of us in our London office, so we're small and friendly enough for you to get to know everyone – but big enough to offer you great career prospects.
To apply
Ensure that you apply directly to us and that you upload your up-to-date CV, OR you apply via one of our approved recruitment agencies.
We do not accept applications via third party websites/job boards or unapproved recruitment agencies.
Equal opportunities and diversity are important values of GJE. If you have any special requirements, please contact us to ensure that we can make any required adjustments for the interview. You can contact us at careers@gje.com.
Vision
We have a diverse workforce with a shared vision, to be the right choice for intellectual property. That means as an employer, we aspire to be the right choice to develop your career.