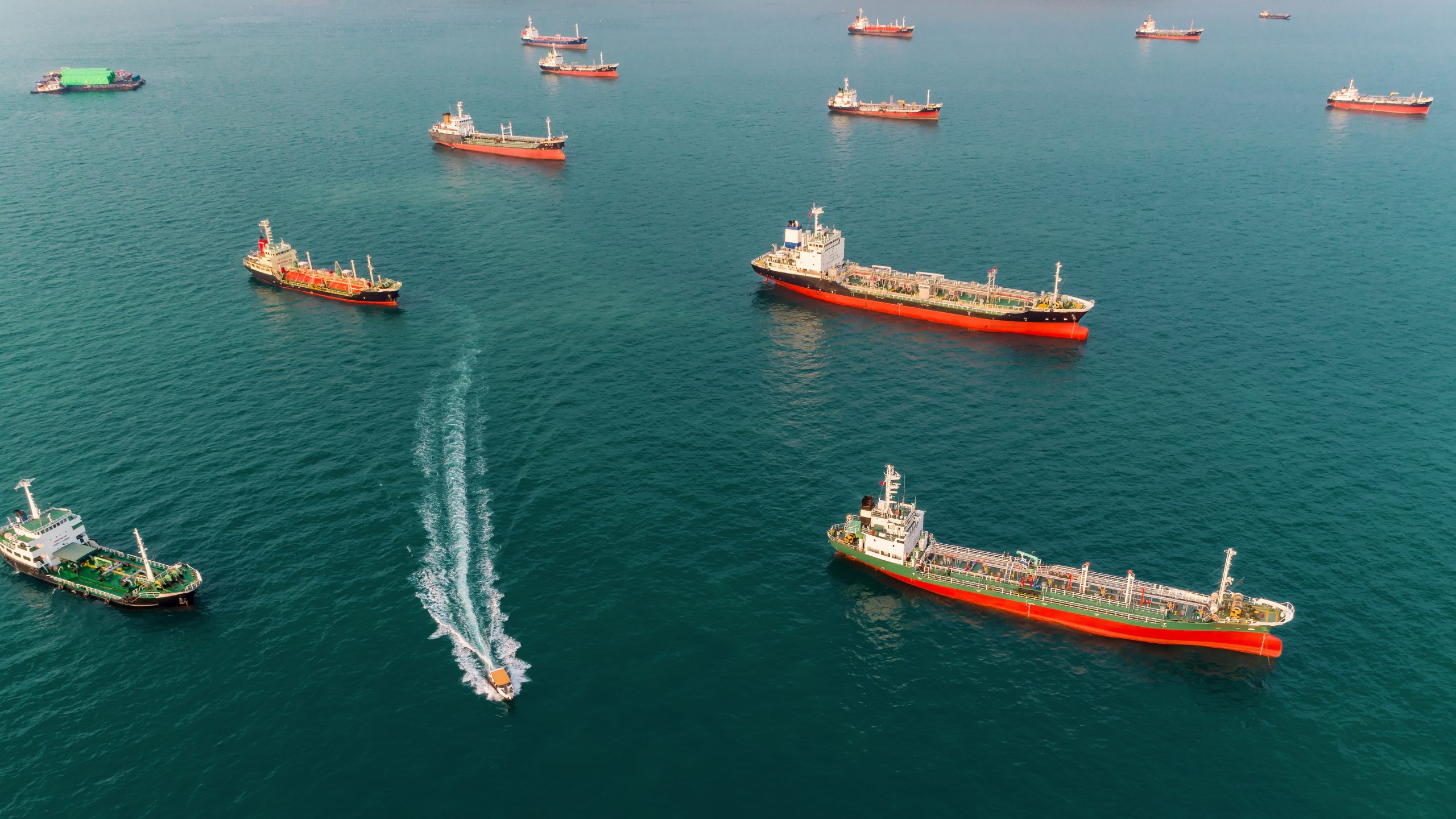 Today, transportation accounts for 14% of global greenhouse gas emissions[1]. Shipping produces 2% on its own[2]. Therefore a transition away from fossil-fuelled vehicles – both on land and at sea – would dramatically affect the planet.
Below, we compare the issues facing green vehicles on the road and at sea. We also discuss whether patent filing statistics reflect the environmental benefits offered by green shipping and provide advice for innovative companies in the marine sector.
Can Green Shipping Outperform Electric Cars?
In the UK, it is evident that the number of electric vehicles is increasing rapidly.
However, the uptake of electric and hybrid vehicles is still stunted by so-called 'range anxiety'. Drivers are worried about being stranded if they run out of juice. Whilst long recharge times force them to break longer journeys into parts.
Similarly, road vehicles that use more exotic fuels, such as hydrogen, have struggled to gain traction due to the lack of infrastructure to support them. It is a chicken and egg situation. Drivers don't want to switch due to the lack of fuelling stations; likewise, there are no fuelling stations since there are not enough vehicles to support them.
In contrast, marine vessels using sustaintable fuels are less likely to suffer from these issues.
Many ships follow well-established, consistent routes. The design requirements of new vessels can be set based on their intended function before their keels are laid. As a result, green ships can be built to meet pre-defined specifications, sidestepping the problem of 'range anxiety'.
Furthermore, due to the long lead time of shipbuilding, facilities necessary to provide ships with shore power or greener fuels can be developed before new vessels arrive in service.
Equally, unlike cars, motorcycles and many other private road vehicles, ships tend to work in fleets – meaning that one vessel can be recharged or refuelled, as its sister vessels maintain full service.
Indeed, ferries are already moving towards running on green fuels.
You might have seen on the news that, in late 2022, Thames Clippers will introduce the first hybrid ferry in London. Whilst new fully electric ferries visiting the Isle of Wight will come into service in 2026.
Looking further afield, ferries with hydrogen fuel cells are coming soon to San Francisco Bay, Gladstone in Queensland, Australia, and the Orkney Islands. Whilst Norway introduced the world's largest electric passenger ferry in 2021 and the world's first electric 'fast ferry' in 2022, capable of travelling at 23 knots for over an hour. Moreover, anyone visiting Bangkok in the coming years will be excited to hear that a new fleet of electric ferries is due to replace the dirty and noisy diesel boats on its arterial river, the Chao Phraya.
Do Trends in Patent Data Show a Drive for Green Shipping?
Patent filings can indicate the scale of research and development in different areas. When companies invent new things, they file patent applications to protect their ideas and prevent competitors from accessing their technology.
The graph below (produced using data from espacenet.com) shows that marine technology has seen a healthy increase in patent numbers over the past 20 years. Patent publications in the field of "Ships, other waterborne vessels and related equipment" (International Patent Classification Code: B63) have increased from approximately 4,000 in the year 2000 to over 20,000 in the year 2020. However, as discussed above, this 500% increase is outstripped by the rise in patent filings associated with electric motors.
Patent publications worldwide for "Marine propulsion systems powered by electric motors" (International Patent Classification Code: B63H 21/17) – a category that covers modern green options, such as battery-electric and hydrogen-powered ships, with some overlap with conventional integrated propulsion systems using electric motors – has grown by nearly 2350% over the past 20 years. The number of publications has increased from 27 in the year 2000 to over 630 in the year 2020.
Similarly, patent offices are receiving steady numbers of new applications for novel approaches to power ships using the wind. Although you could be forgiven for thinking that 'windships' were a thing of the past, the idea of 'free' power continues to intrigue shipbuilders.
This should be no surprise. The increasing costs of fossil fuel and an increasingly strict regulatory framework are pushing that the marine industry to invest in greener solutions. Furthermore, the statistics are a reflection of a sector which is both competitive and innovative. Indeed, we expect the number of patent filings in marine technology and sustainable fuels to continue increasing in future years.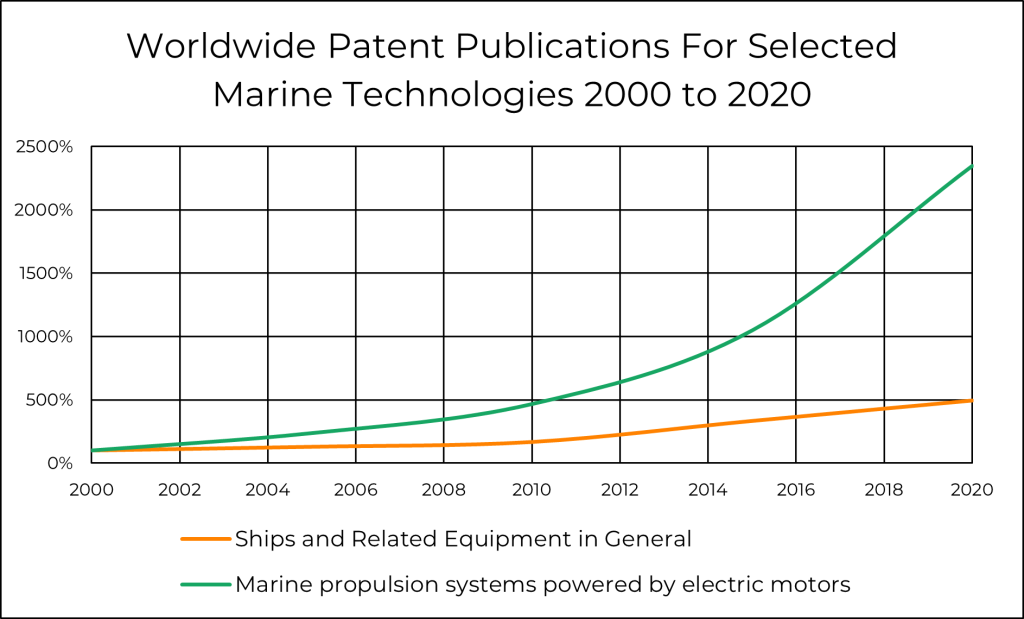 What Do Marine Innovators Need to Do to Support Their Business?
As mentioned, it is clear from the data on patent filings that the intellectual property landscape in clean marine technology, especially green fuels, is becoming increasingly crowded as more companies recognise the importance of IP.
Suppose you are an innovative business in the marine sector. You need to ensure that your technology is appropriately protected and you are not boxed out by the IP rights held by third parties. A strong IP strategy will help you reach your commercial goals.
If you would like to discuss the issues your company is facing or an IP strategy for your business, please contact the author Guy Edwards or one of our other patent attorneys at gje@gje.com.
---
[1] Global Greenhouse Gas Emissions Data | US EPA