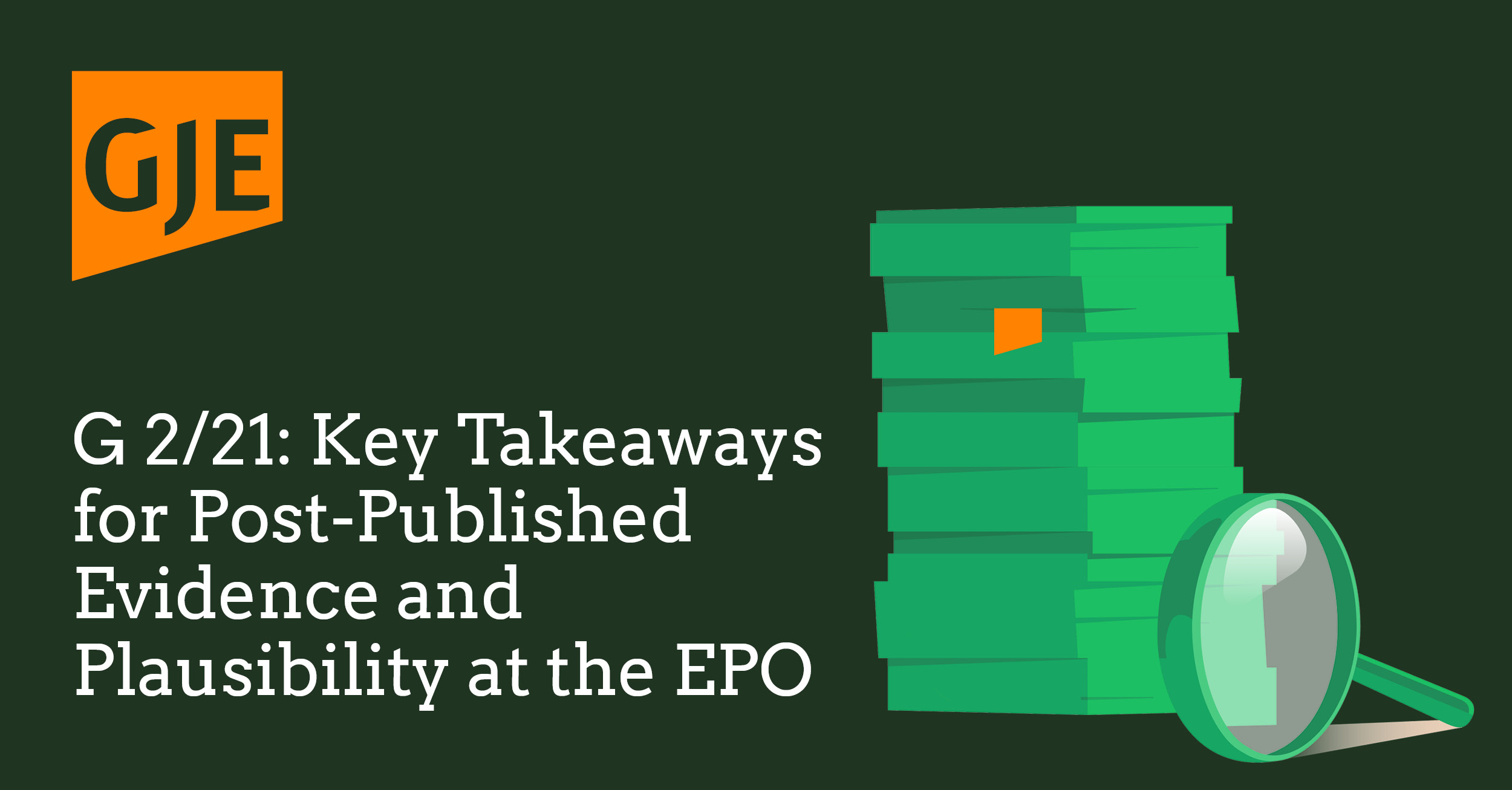 The EPO has published the long-awaited decision G 2/21, shedding some light on the use of post-filed data to support inventive step. The key takeaways are below. We also take an in-depth look at the implications of the decision here: G 2/21: Making Sense of the Enlarged Board's Abstract Criteria for Relying on Post-published Evidence at the EPO and consider how the decision will affect opponents of European patents here: G 2/21: Has the Decision Made It Harder for Opponents?
1. Post-published evidence may be used to prove a purported technical effect in the assessment of inventive step.
The ability of patent proprietors and applicants to rely on post-published evidence is upheld.
2. … But the skilled person must be able to derive the technical effect as being encompassed by the technical teaching and embodied by the originally disclosed invention, taking the common general knowledge into account.
One cannot use post-filed data to support a technical effect if it is implausible or not credible based on the teaching of the application as filed.
The Enlarged Board has avoided using specific wording such as "disclosed" in respect of the technical effect, and maintains the previous practice which does not require the inclusion of experimental data in the application as filed as a pre-requisite for the successful support of an inventive step. This may allow an effect that is implied by or related to the problem initially suggested in the application to be relied upon.
3. The assessment of the technical effect will depend on the facts of each case, and is likely to be influenced by the technical field of the claimed invention.
This is likely to require more supporting evidence in the application as filed in respect of technologies or claim types where a technical effect is less predictable, such as therapeutic use claims or those limited explicitly by a functional effect.
4. The Enlarged Board finds that "plausibility" is not a distinct legal concept or requirement under the EPC.
We should probably expect the various departments of the EPO and the technical boards of appeal to avoid the use of the term "plausibility" in future decisions.
Have any questions? Please contact Ash.Earl@gje.com, Arnie.Clarke@gje.com or any of your usual GJE contacts.