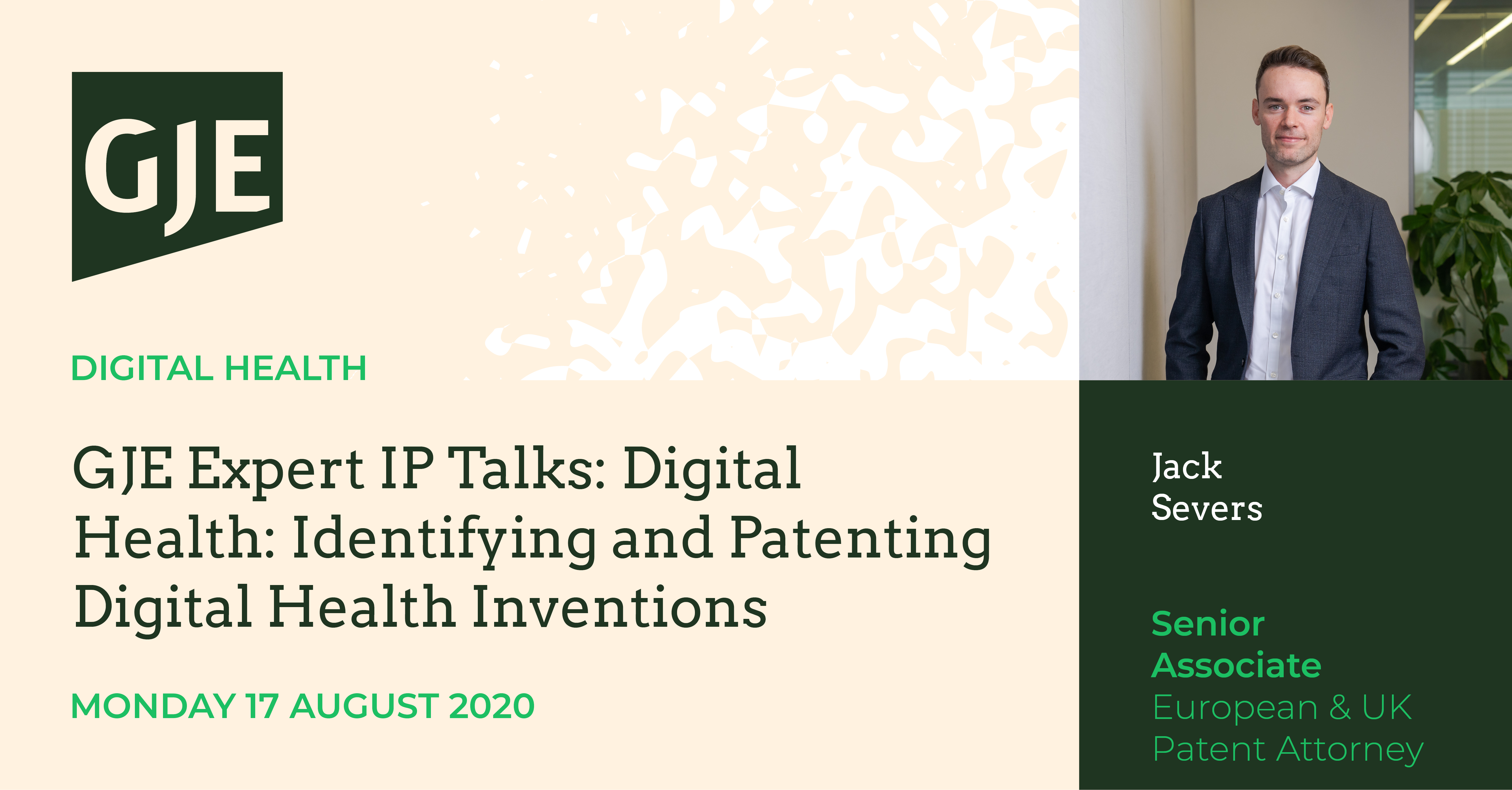 Monday 17th August 2020, 2:00pm (London UK – BST) 45mins
What will the talk cover?
The current pace and scale of health care innovation has led to the emergence of a broad range of new digital health technologies which apply new advances in computing technology to health care applications.  This talk, the first in a series of two talks looking at strategies for protecting these technologies, will focus on approaches to identifying and patenting digital health inventions.
The rate of innovation in digital health is reflected in a large and increasing number of patent applications being filed in this field.  However, it is clear from our discussions with companies working in this sector that there are still some uncertainties regarding what is and isn't patentable, and in determining when patent protection would add value to their business.
In this talk, we explain the approach of the European Patent Office in considering the patentability of computer-implemented health tech inventions.  We illustrate this by considering the patentability of a number of example technologies, representative of the categories of digital health products we most often see, with the aim of providing the necessary grounding so that you can assess the patentability of your own innovation.  We also look at patent strategy considerations, including assessing if and when to file a patent application and which types of technology particularly benefit from patent protection.
Who will be speaking?
Jack is a Chartered UK and European Patent Attorney who advises a wide range of clients, from large multinationals to SMEs and university spin-outs across the fields of health tech, electronics, engineering and computer-implemented inventions.
Jack leads GJE's MedTech business development group and has particular expertise in advising early stage Health Tech companies on how best to protect their innovation.  He regularly drafts and prosecutes patent applications for Digital Health inventions which apply computer-implemented technology and software to medical and healthcare applications.
Jack is actively involved in the rapidly growing start-up ecosystem in London and provides IP support to a number of accelerator and incubator organisations, including advising companies on the Digital Health London Accelerator and acting as "IP Expert in Residence" for the Imperial College Enterprise Lab.  Jack has spoken at a number of events, including speaking on the importance of IP strategy at the GIANT Health Event and chairing the Beanstalks competition for Health Tech start-ups.