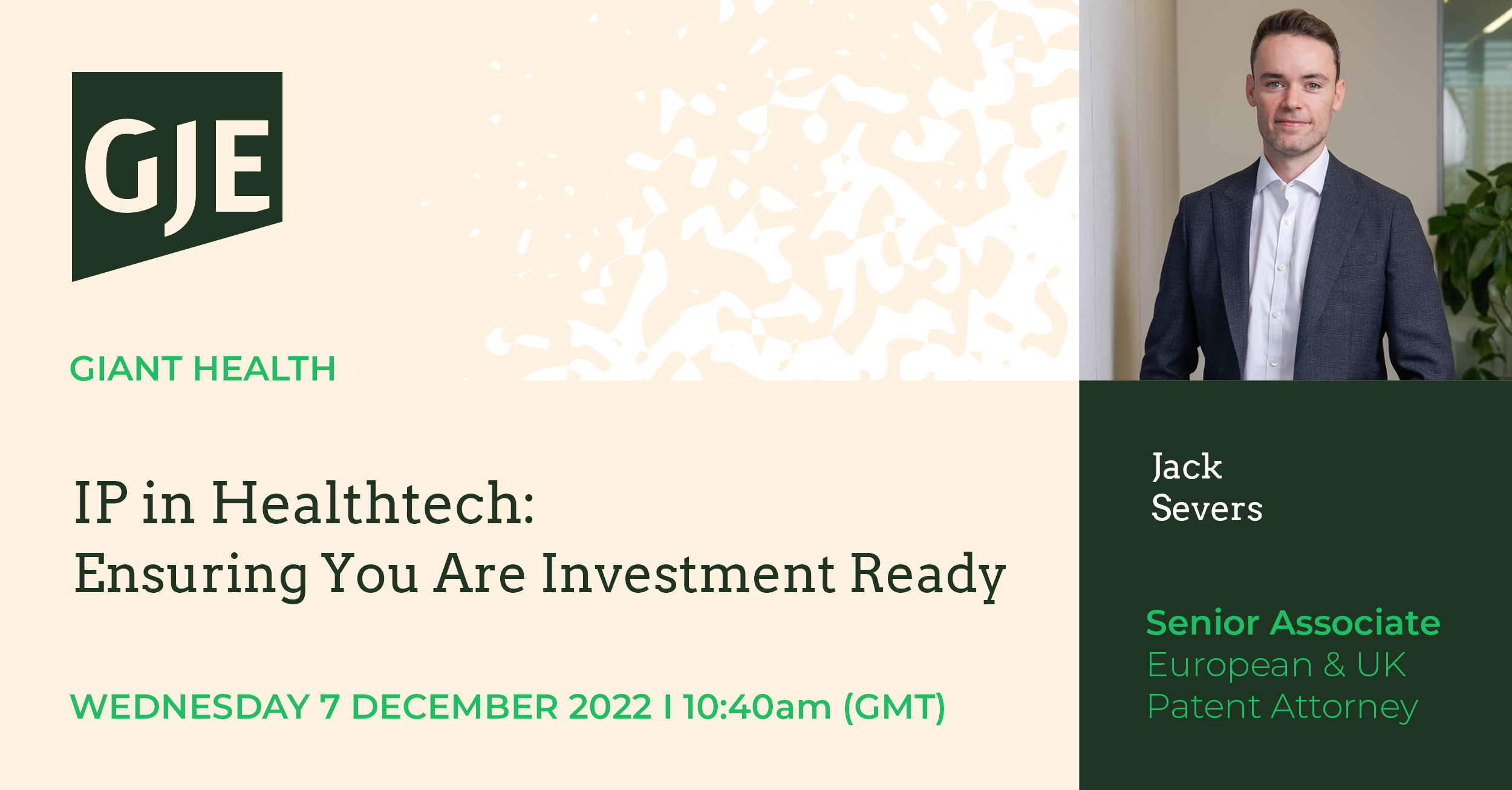 Wednesday 7 December 2022 I 10:40 am (London UK – GMT)
What will the talk cover?
Chartered UK and European Patent Attorney Jack Severs will be giving a talk as part of The GIANT Health Event's "Pitching to Investors" Programme.
Research from economists at the European Patent Office shows that SMEs and start-ups who are using the IP system to protect their innovation are statistically much more likely to be high growth companies. It follows that investors will want to confirm a sound IP position before they invest.
Jack works on both sides of these deals, both advising early stage health tech companies to ensure they have protected their innovation and advising investors during IP due diligence. Drawing on this experience, in this talk Jack will cover the key issues that health tech innovators should be considering to ensure they have a sound IP strategy in place and are ready for their next funding round. The talk will cover (1) use of the IP system to protect your own innovation, including patentability and when patent protection is the right option, (2) managing the risk posed by third party IP rights, while minimising the cost of expensive FTO searching; and (3) common pitfalls and issues that arise in IP due diligence.
Who will be speaking?
Jack Severs is a Chartered UK and European Patent Attorney who advises a wide range of clients, from large multinationals to SMEs and university spin-outs across the fields of health tech, electronics, engineering and computer-implemented inventions.
Jack leads GJE's Digital Health group and has particular expertise in advising early-stage health Tech companies on how best to protect their innovation. He regularly drafts and prosecutes patent applications for Digital Health inventions that apply computer-implemented technology and software to medical and healthcare applications. Jack is IP Expert in Residence for the Imperial Enterprise Lab and IP advisor to the Digital Health London Accelerator.
About GIANT Health 2022
GIANT Health 2022, taking place at the Business Design Centre in London 6-7 December is Europe's largest health tech event and will welcome emerging and scaling health tech brands for two days of expert talks, exhibitions and start-up competitions. GJE's expert Digital Health team will be on hand at our exhibition stand to answer all your intellectual property related questions.
For further information and to purchase tickets please click here.