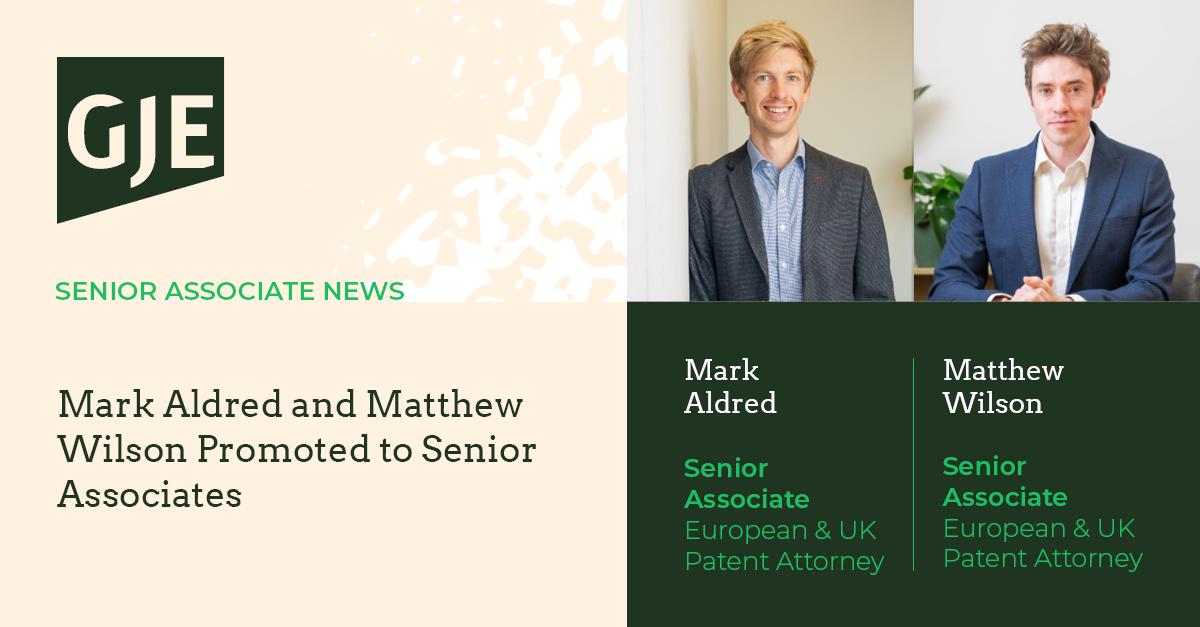 We are delighted to announce that Mark Aldred and Matthew Wilson have been promoted to the role of Senior Associate.
Mark joined GJE in 2009 and qualified as a European Patent Attorney in 2013, and as a UK Patent Attorney in 2014 (taking some time out to appear for Team GB at the Olympics in 2016!). He works with clients in all areas of patent practice including drafting and prosecuting patent applications, handling oppositions and appeals at the EPO, and opinion work.
Mark Aldred commented: "I am very pleased to move into a new role as Senior Associate, and I am looking forward to taking on the new opportunities and challenges that this will bring."
Matthew Wilson qualified as a European Patent Attorney in 2017 and UK Patent Attorney in 2018. Prior to joining the IP profession, he worked for three years at an international business and technology consulting firm. Matt works with a range of UK and international clients, from individual inventors and start-ups to large manufacturing, research, and telecommunications companies.
Matthew Wilson commented: "I am grateful for the opportunity to take on new challenges and continue serving our clients in this new role at GJE."
GJE Chairman, Alasdair MacQuarrie commented: "I would like to offer Mark and Matthew my congratulations on their promotions. Their new roles as Senior Associates will further strengthen our IT & Engineering practice group and I look forward to their continued success and contributions to the firm."