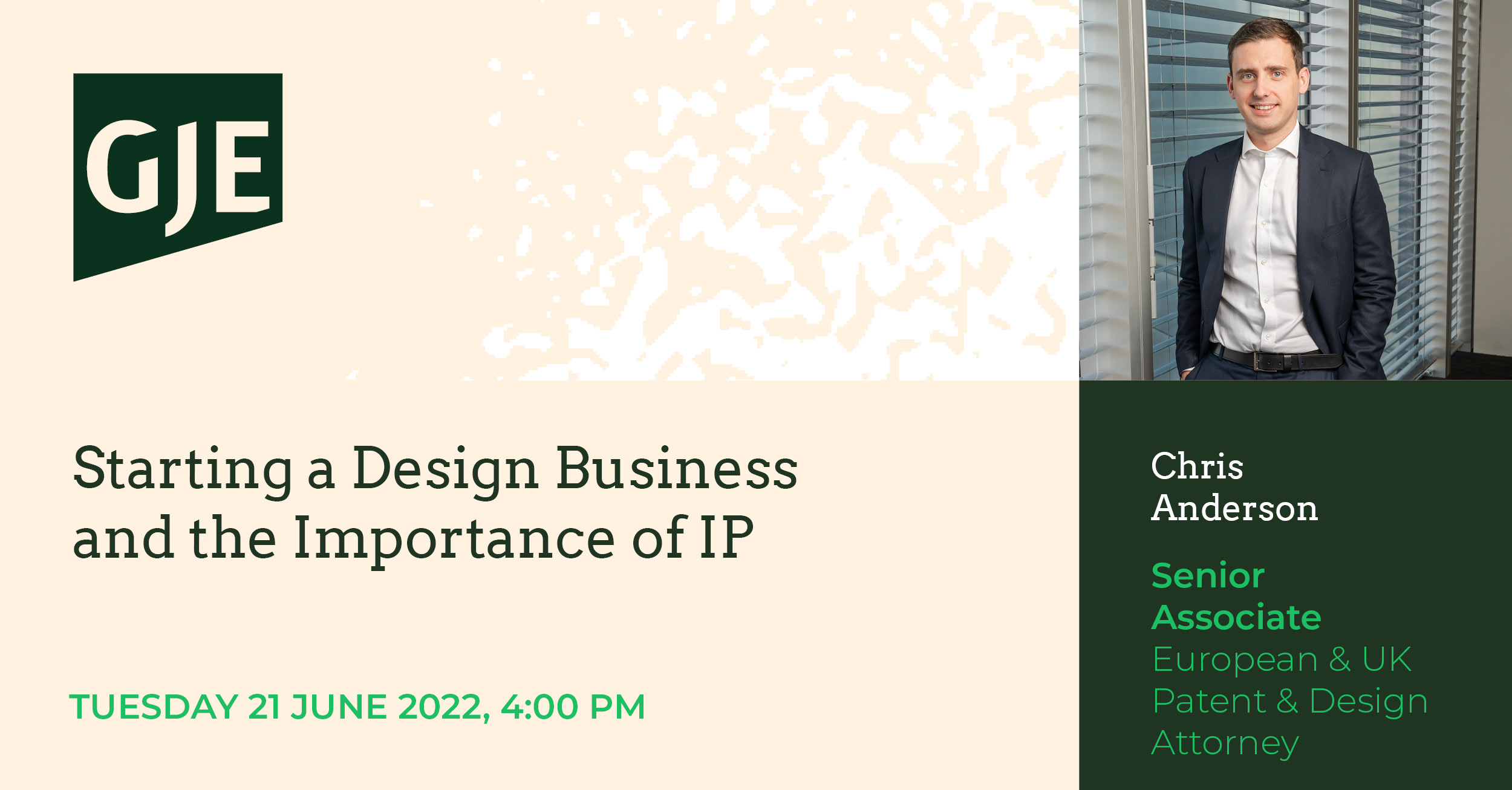 Tuesday 21 June 2022, 4:00 pm (London UK – BST).
This talk will be delivered online. Click here to sign-up.
What will the talk cover?
There are many things to think about when starting a design business, and intellectual property is often one thing that gets overlooked. In this panel talk, UK patent and design attorney Chris Anderson will be joined by Danny Lenihan, CEO and founder of 3 Legged Thing, and Louisa Pacifico, Founder of Future Icons, who will be discussing their experiences of businesses starting out and the role IP has to play.
Who will be speaking?
Chris Anderson
Chris Anderson is a UK patent and design attorney at Gill Jennings & Every LLP. Chris has worked in the IP industry since 2013, after graduating from university with a master's degree in physics. Chris has represented a wide variety of small and medium sized-companies in relation to protecting their intellectual property with patents and design rights. He is also head of GJE's designs group and has experience advising a contemporary British fashion brand, a leading multinational toy manufacturer, and a number of early-stage UK food and drinks companies in relation to their designs.
Danny Lenihan
Danny Lenihan is the founder and CEO of one of photography's most iconic brands – 3 Legged Thing. Born and raised in London, Danny's early career was spent as a photojournalist, before a twist of fate nudged him into stand-up comedy. For fourteen years he toured the world, shot five movies, numerous television and radio shows and gigged at some of the most prestigious comedy venues across the globe. In 2005 he set up his first company selling photographic equipment on eBay, but became frustrated at the lack of innovation in camera support technology. In 2010 he designed his own range of tripods and branded them "3 Legged Thing", intending to sell directly to consumers in the UK market place. Much to his surprise, the brand exploded and twelve years later 3LT is a global leader in camera support innovation, with products in thousands of stores across five continents. During the pandemic, Danny wrote his debut novel, Rogue, which was published in June 2021, and he is currently working on the second book of the series whilst continuing to innovate and expand his brands.
Louisa Pacifico
Louisa Pacifico is the founder of Future Icons, which represents an international collection of design and craft led businesses across interior design, furniture, jewellery and more. Louisa has had a passion for objects and artworks from a young age – probably stemming from her mother taking her to antique fairs monthly as she grew up. Following her graduate degree in 3D Design for production from Brighton University, Louisa dedicated her professional career for 11 years to heading sales teams at significant design events including Clerkenwell Design Week. She founded Future Icons in 2017 with exciting results ever since.