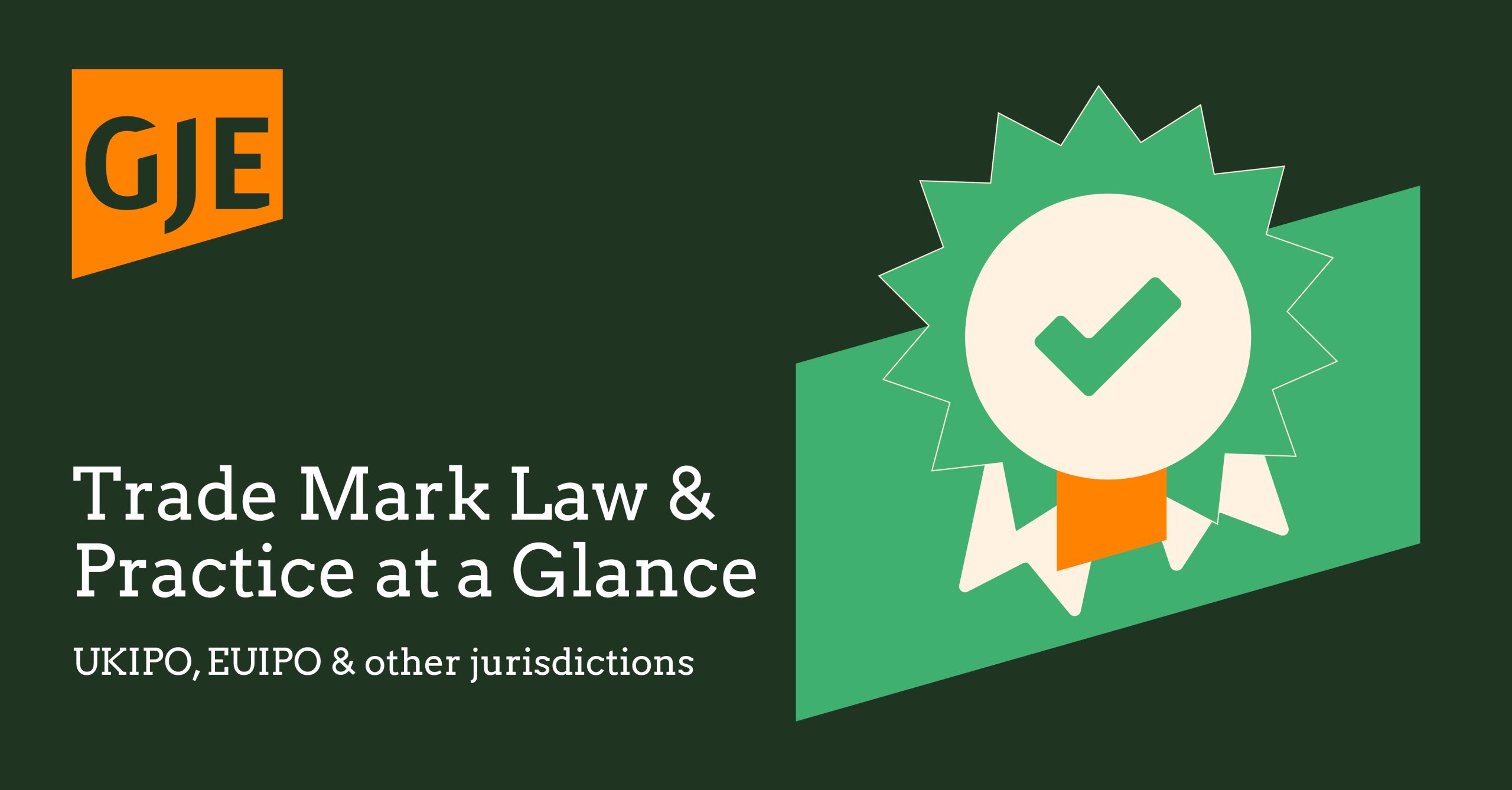 UKIPO, EUIPO & other jurisdictions
We regularly review changes to trade mark law and practice at the UKIPO, EUIPO and in other jurisdictions. Please feel free to contact your usual GJE contact if you have questions on any of these changes or how they might affect specific cases.
UK UPDATE
Update on UK Address for Service
The UKIPO's guidance was updated on 1 September 2023 and reflects the changes coming into effect on 1 January 2024. Owners of any UK rights that were created from EU-wide rights when the UK left the European Union will need to provide a UK address for service in relation to any contentious proceedings. More information can be found here.
Government launches second consultation for new TMs and designs services
The consultation will work to gather information to help develop the online services relating to trade marks and designs due to launch in 2025. As well as reviewing the value of "series" marks on the UK register, the most significant change here would mean that it is easier to view and download documents relating to trade marks and designs online. More here.
IP Service Guides
On 4 October 2023 the UKIPO published guides on IP in Indonesia, Philippines and Vietnam to help make the most of IP internationally. The full set of International IP Service guides can be found here.
UKIPO guidance on protection of NFTs and Virtual Goods and Services
The UKIPO has offered clarificatory guidance on these goods and services including that NFTs will not be accepted as a classification term on their own and must relate to an asset. For example "digital art authenticated by non-fungible tokens [NFT]" classified in class 9. This is in line with the 12th Edition of the Nice Classification. See the full Practice Amendment Notice 2/23 here. The EUIPO, USPTO and IP Australia have released similar updates.
EUIPO UPDATE
Amazon joins the EUIPO's Intellectual Property Enforcement Portal
On 29 September 2023, Amazon became the first major e-commerce site to join the EUIPO's Intellectual Property Enforcement Portal (IPEP), which is a centralised platform for the exchange of information relating to IP rights. In Amazon's press release, they stated: "IPEP will also be key in the fight against counterfeit products, an area where Amazon has a zero-tolerance policy". Full report here.
EU's New Rules for Protecting Geographical Indications Beyond Agriculture
The Council has recently approved the European Parliament's new regulation that aims to harmonise rules on geographical indication (GI) protection for craft and industrial products. This will function in parallel with the existing rules for agricultural products. See more information here.
The EUIPO practice tips
The Office provides useful practical tips including how to update an error on your EU application – permitted if they are requested on the same day as filing. This and other helpful tips here.
WIPO UPDATE
Changes to enter force on 1 November 2023
These will predominantly focus on Contracting Parties being required to clearly indicate the start and end dates of time limits to WIPO. The minimum time limit to reply to a provisional refusal will be 2 months (or 60 days). Detailed information here.