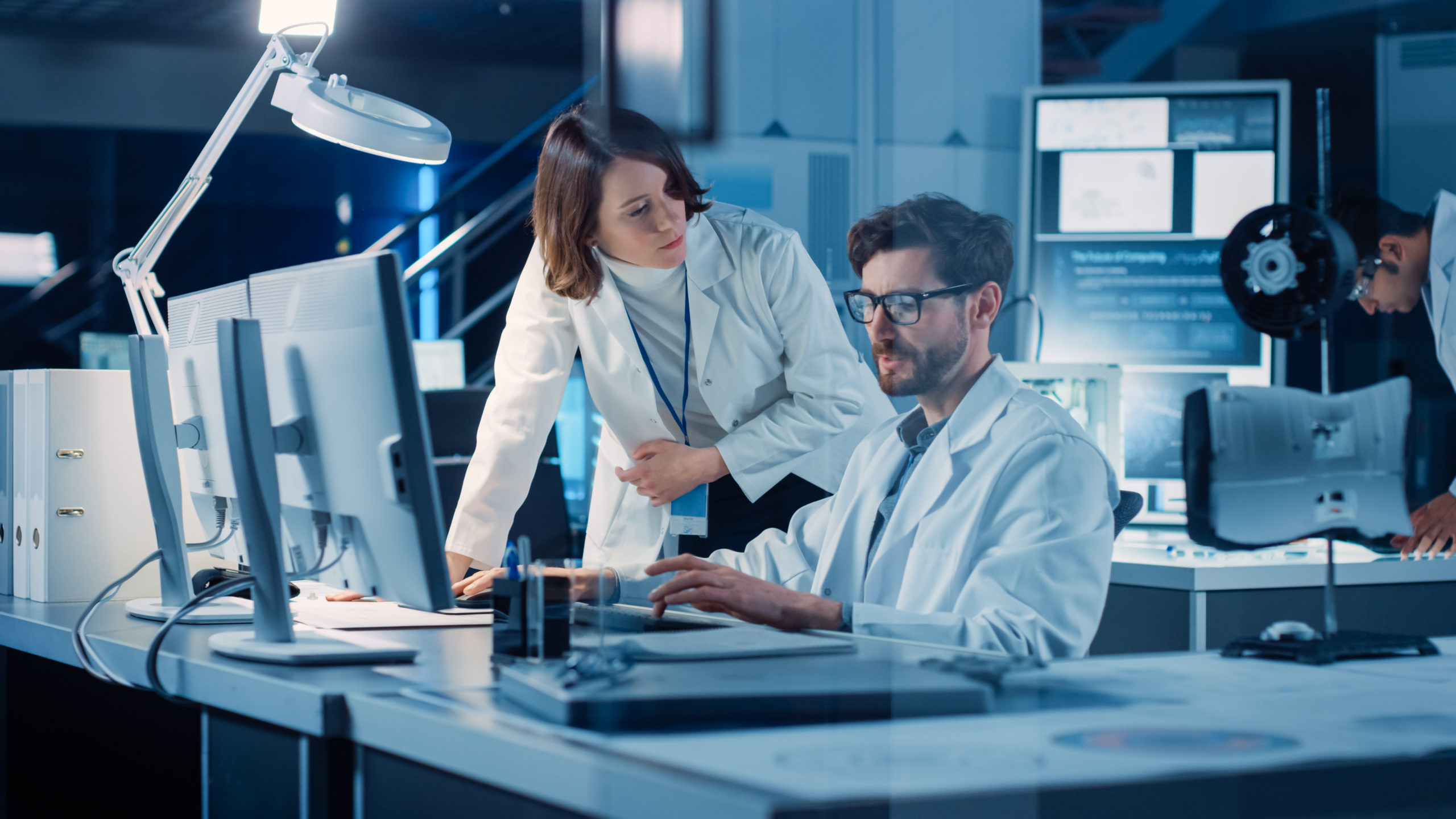 At the time of writing, the number of registered designs filed and published at the European Union Intellectual Property Office (EUIPO) in 2020 relating to equipment for doctors, hospitals and laboratories was over 50% higher than in the same time frame in 2019. While this may seem at first glance to be driven entirely by the coronavirus pandemic, in this article we take a closer look at whether this might actually be part of an on-going trend across the whole MedTech sector.
When it comes to patents, the MedTech sector has one of the highest rates of European patent applications filed. It is increasingly obvious that companies in the healthcare market recognise that securing intellectual property protection is vital in order to position their innovations at the forefront of emerging MedTech technologies. This trend is something we expect to see continue in light of the current coronavirus pandemic, particularly in sectors relating to equipment for doctors, hospitals and laboratories, which are experiencing high demand for their technologies as a result of current circumstances. However, patents are not the only way to protect new products in the MedTech sector. Design protection is an often overlooked aspect of intellectual property. Design rights have their place in protecting both product and brands and can often be used to complement either or both of patent and trade mark rights.
Fundamentally, design rights protect the appearance of an item. The item in question may be, among other things, a physical product or one or more aspects of branding, such as a logo or part of the product packaging. Design right comes in two distinct forms: registered and unregistered. Registered design protection is stronger in that it lasts longer than unregistered design right and provides the owner with monopoly protection of the registered design because it does not require the protected design to be copied to be infringed, unlike for unregistered design right. Registered design protection is also available at low cost and, in many cases, is granted within only a couple of weeks of filing, making design protection relatively straightforward to factor into any IP strategy.
While we have seen registered designs specifically related to equipment for doctors, hospitals and laboratories increase significantly in the last year, a look at the numbers shows that registered design applications at the EUIPO across the whole field of medical and laboratory equipment have been on a significant increase for a number of years.
European registered designs for medical and laboratory equipment since 2003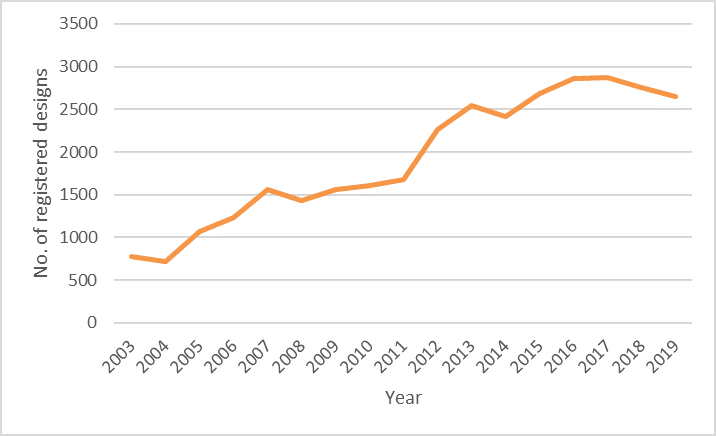 MedTech is one of the leading fields of technology when it comes to registered European designs. It can be seen from the above chart that there has been a significant upwards trend in designs for medical and laboratory equipment, with a 244% increase in designs registered from 2003 to 2019.
However, the rapid growth in the number of registered European designs has not been uniform across the field. Each registered design is allocated a classification number that represents the type of product it relates to, and this allows us to see that areas such as prosthetic articles have seen much greater rates of innovation than more mature areas such as materials for dressing wounds, nursing and medical care.
Classification 24.01, which relates to apparatus and equipment for doctors, hospitals and laboratories, not only shows a 50% increase in 2020 compared with the equivalent period in 2019, but also shows a 404% increase in number of designs filed since 2003, as can be seen in the chart below.
24.01: Apparatus and equipment for doctors, hospitals and laboratories since 2003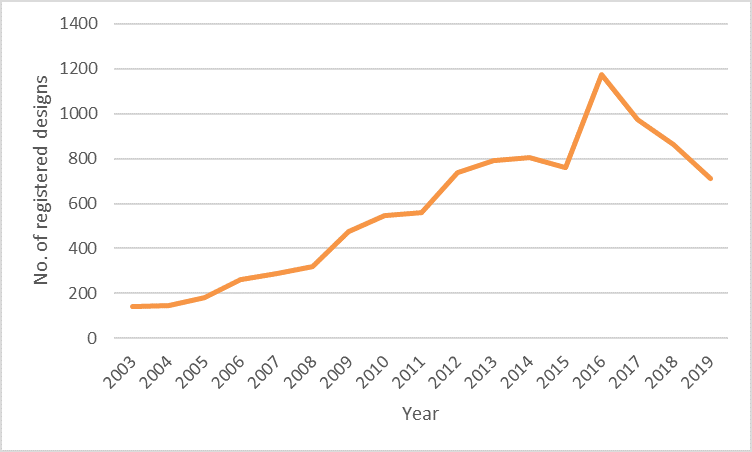 Classification 24.02, which relates to medical instruments, instruments and tools for laboratory use, similarly shows a 381% increase, as can be seen in the chart below.
24.02: Medical instruments, instruments and tools for laboratory use since 2003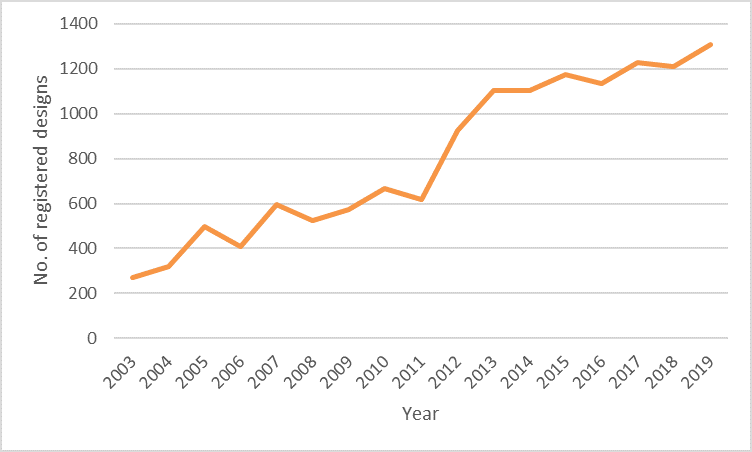 Although each has an upward trend, these two charts show some interesting variations over the years. For example, designs for apparatus and equipment for doctors, hospitals and laboratories (24.01) had a very large increase in 2016, but has declined slightly over the past few years. However, in the light of consumer demands resulting from the current pandemic we have seen a significant jump from 2019 to 2020, which is no wonder considering this category includes disinfection and sterilisation equipment.
Classification 24.03, which relates to prosthetic articles, is smaller than other sectors but shows a very significant 645% increase in designs since 2003. This substantial increase indicates significant innovation in this developing sector and highlights the importance of designs in protecting articles for which the appearance is important. The below chart shows some variation in numbers of European designs registered over recent years, with a strong increase over the past 5 years.
24.03: Prosthetic articles since 2003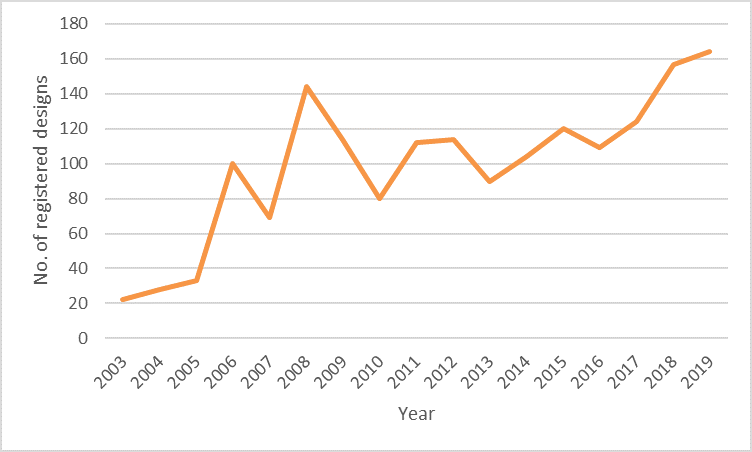 While patents and trade marks will continue to be the go-to forms of intellectual property, it is obvious that design rights have their place in the IP strategy for many MedTech businesses. The strong upward trend in design filings right across the MedTech sector is one we expect to continue and will only be intensified by the current coronavirus pandemic, as businesses look to stay at the forefront of medical technology.
When looking to strengthen their market position, MedTech businesses would be wise to consider registered designs, particularly if designs are not yet part of their IP strategy. GJE has substantial designs experience and is able to support you in obtaining design protection. See here for more information on GJE's design practice, and here to find out more about how we can help you protect your MedTech innovation.