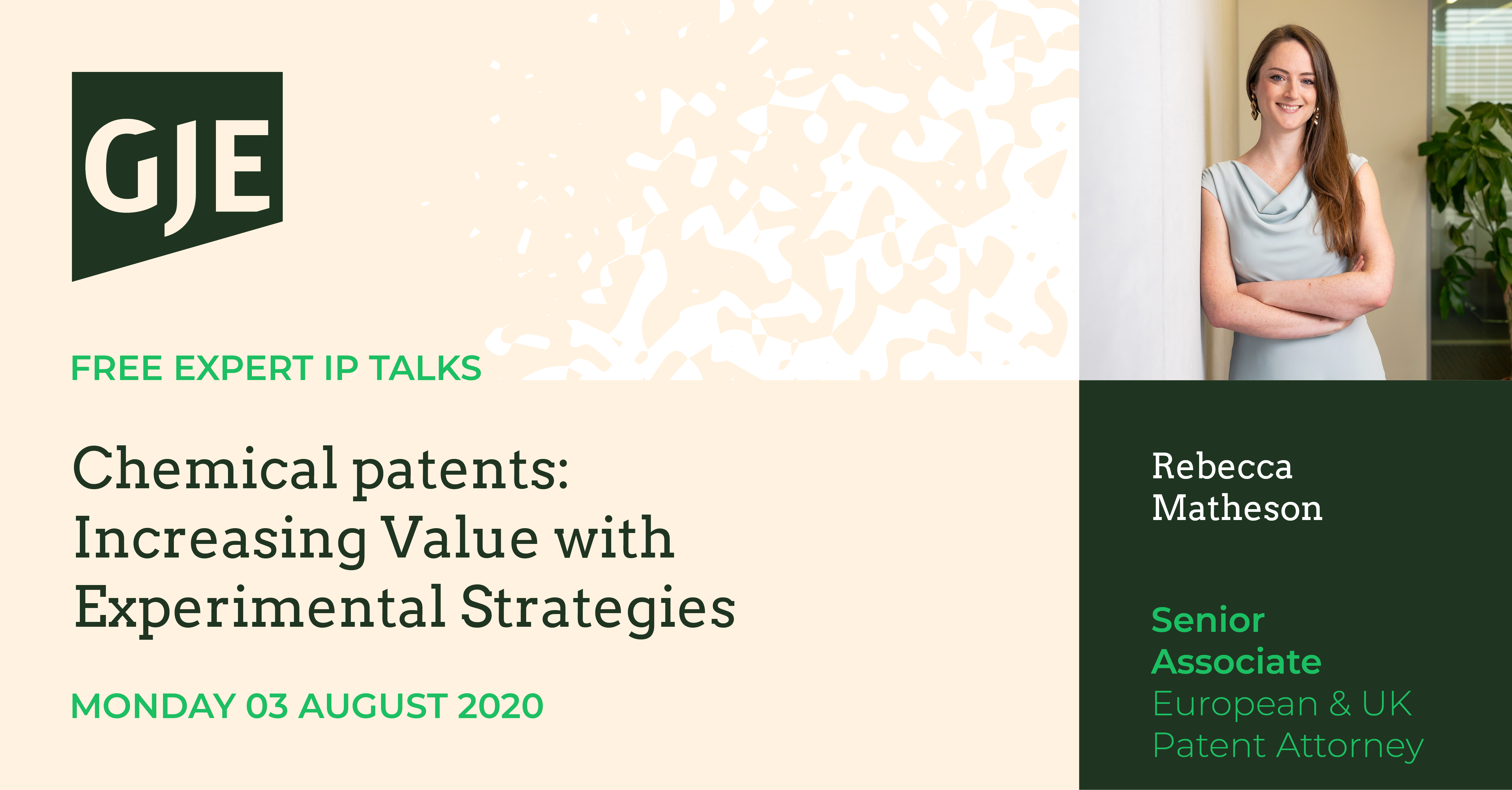 Monday 3rd August 2020, 2:00pm (London UK – BST) 45mins
What will the talk cover?
GJE Expert IP Talks will be delving into all of the core areas of IP practice.  The focus will be on UK and European systems but we will also cover the worldwide context.
In this talk, we will be looking at patent considerations within the chemical space.  Inventions in this space can span many different industry areas, but common to all these areas is the importance of supporting your patent application with experimental data.  Generating the right data, at the right time of the patent process, can make a marked difference with how swiftly your patent is granted, and how resilient your patent is to challenges from third parties.  Generating experimental data involves time, resources, and costs – so data quality, and not just data quantity, is important.  In this talk, as well as exploring the types of chemical inventions that you can patent, we will share practical tips for arriving at an experimental strategy that will carry these inventions through the patent process.  Building on the theme of some of our earlier talks, we will also cover how companies operating in the chemical space can gain value from entering the patent process – from increasing their attractiveness to investors, to gaining leverage over their competitors.
Who will be speaking?
Rebecca Matheson is a Chartered and European Patent Attorney, specialising in patent matters within the chemical and pharmaceutical fields.  During her time in the profession, Rebecca has enjoyed working across a diverse range of technology areas, from consumer goods, to medical devices, to clean technology.  Rebecca is a trusted advisor for companies ranging from large multinationals to brand new SMEs, and enjoys helping her clients make use of the patent process to best support their commercial goals.  Rebecca has experience in drafting and prosecuting patent applications, including coordinating prosecution of global portfolios. Rebecca has a keen interest in oppositions and appeals, and has an impressive track record with attacking and defending patents at the European Patent Office on behalf of her clients.  This contentious experience has helped Rebecca gain full appreciation of how best to "waterproof" her client's cases from an early stage.