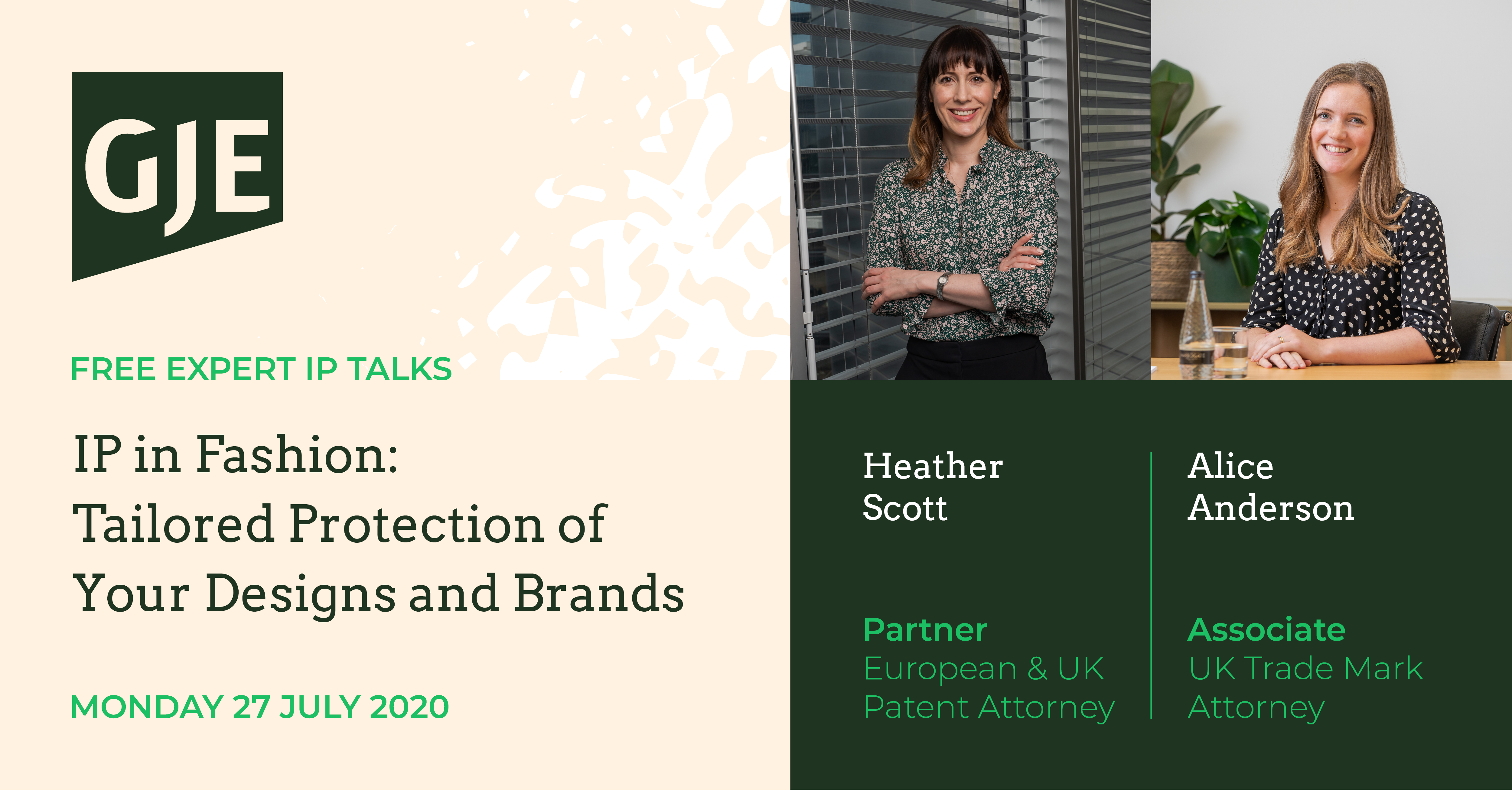 Monday 27th July 2020, 2:00pm (London UK – BST) 45mins
What will the talk cover?
GJE Expert IP Talks will be delving into all of the core areas of IP practice.  The focus will be on UK and European systems but we will also cover the worldwide context.
This Expert Talk will focus on one of our most creative industries – the fashion sector – and provide an introduction to the key aspects of Intellectual Property which are most relevant.  We will explain the protection available for products via registered and unregistered designs, taking into account the fast-moving nature of the industry, as well as discussing how to secure your all-important brand using trade marks.  Recent cases involving both high-profile and lesser-known names will be used to illustrate the issues.
Who will be speaking?
Heather Scott is a UK and European Patent Attorney and Partner at GJE, with 15+ years of experience in the industry.  She is also a UK and European registered design attorney.
Heather works with a wide range of technologies in the physics, engineering and materials science fields, drafting and prosecuting patents for everything from semiconductor devices to DNA spectroscopy, and all sorts in between.  One of her particular specialisms is anti-counterfeiting technology for banknotes and other secure documents, having worked closely with world-leading banknote supplier De La Rue for over 15 years.  Heather leads a team within GJE which grows, maintains and defends a very active IP portfolio for De La Rue across over 70 countries.
Alice Anderson assists clients in devising and establishing their brand protection strategy from initial selection of a trade mark through clearance searches, to filing, prosecution and enforcement.  She has worked with a wide variety of clients in different commercial sectors including  fashion, pharmaceuticals, food and drink, entertainment, retail and scientific and electrical equipment.
The majority of Alice's work focuses on start-ups and medium sized UK clients in the early stages of protecting their brand but she also deals with large multi-national clients where the focus lies more in enforcement and portfolio management.  Alice also has experience in dealing with domain name and company name disputes.