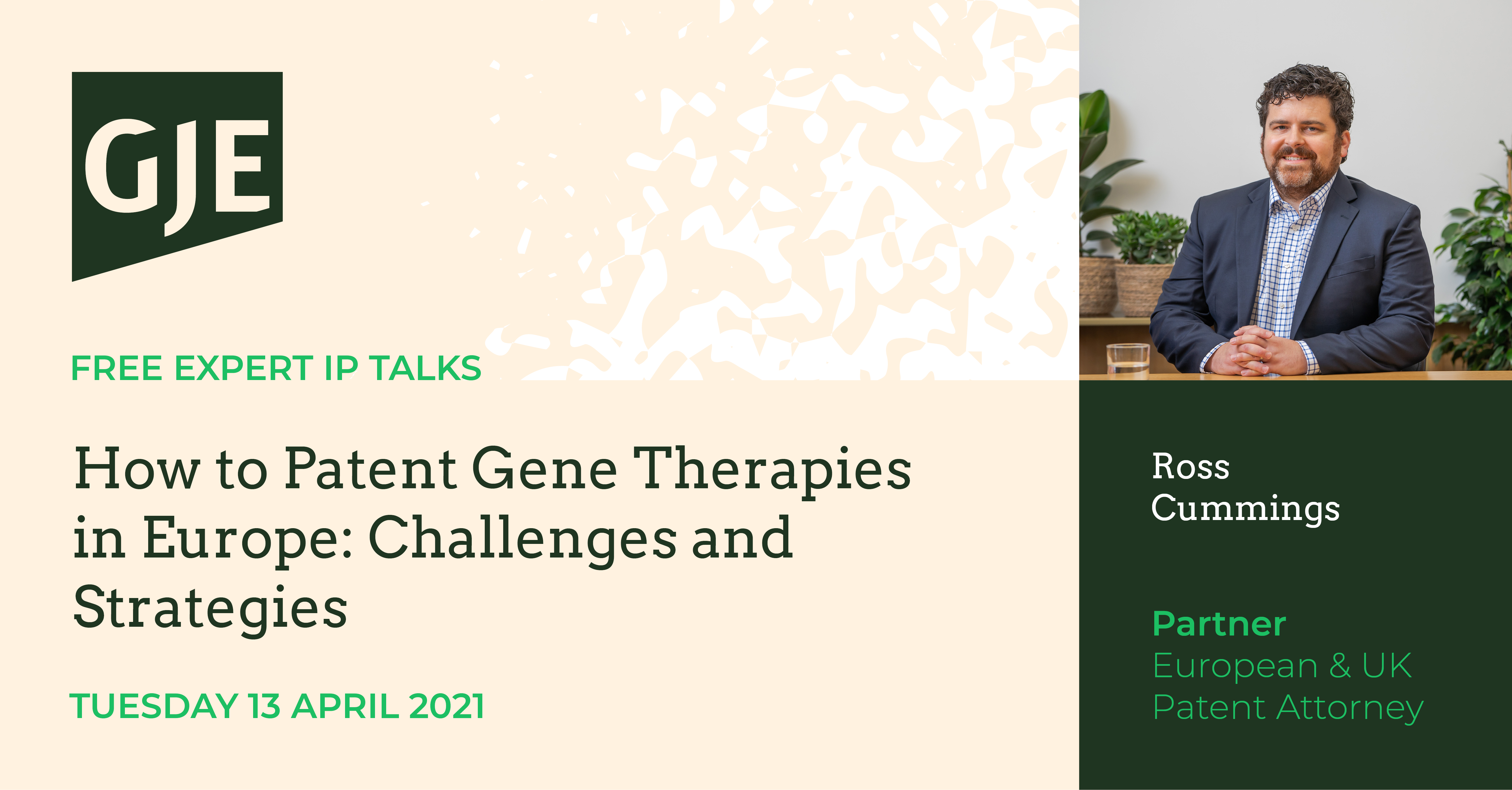 Tuesday 13th April 2021, 2:00pm (London UK – BST) 45mins
What will the talk cover?
Gene therapies are taking medicine by storm.  Very large investments are being made across the world in both start-up gene therapy companies and in gene therapy research by established pharmaceutical companies.  This technology offers potentially "curative" medicine that is capable of not only relieving symptoms but actually correcting the precise cause of disease, particularly in monogenic disorders.
Patents are essential for securing investment for developing new medicines but they must be commercially relevant and support business growth.  Medicines like gene therapies that are personalised to the patient can present challenges when it comes to establishing commercially relevant patent protection, and it is therefore essential that a strategic approach is taken.
In this talk, Ross will discuss the challenges in Europe and strategies for addressing these, with reference to specific case studies.  This talk will likely appeal not only to European founders, inventors and investors in the personalised medicine space but also non-European companies and attorneys looking to understand European patent protection in this exciting and rapidly developing field. The talk will also touch on some non-patent related aspects of protection available in Europe for these technologies.
Who will be speaking?
Dr Ross Cummings is a Chartered and European Patent Attorney.  He specialises in the biotechnology, pharmaceutical and medical device sectors, with a particular interest in immunological approaches to disease prevention and cure, and biotechnological approaches to food production.
Ross works with a wide range of clients from small start-ups and universities to more established firms in the UK and Europe. His core practice is drafting and prosecuting patent applications in Europe and worldwide but Ross also has significant experience in investment due diligence both in private practice and in-house. Ross works closely with management teams to devise and execute a patent strategy that supports their commercial goals.  Ross also has a very strong track record of success in both defending and attacking granted patents in opposition proceedings at the European Patent Office.  Ross' clients appreciate his commercially focused, clear and detailed guidance.