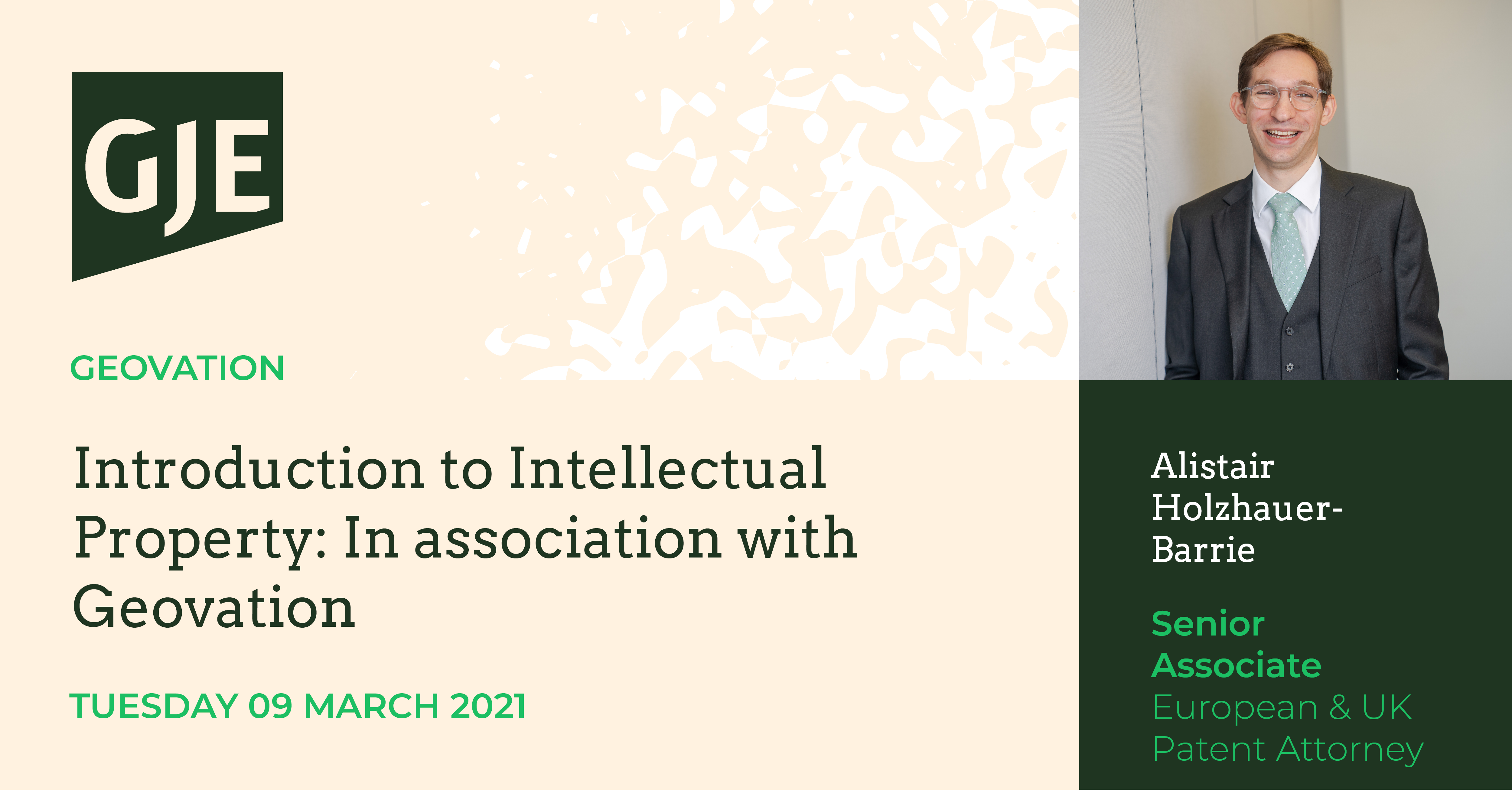 Tuesday 23rd February 2021, 11am – 12pm
What will the talk cover?
In this first of two talks, Alistair will introduce the core areas of Intellectual Property (IP), what they can be used to protect and how this can be achieved.  He will also touch on how startups can use IP to their advantage and some of the pitfalls to avoid.  Additionally, the talk will include a discussion on the different types of IP available, as well as the reasons why startups may wish to seek IP protection.
The talk is in association with Geovation, an Ordnance Survey initiative, now in its tenth year of existence.  Their aim is to make the UK the best place to launch and grow startups that use location or property data through their accelerator programme.  Geovation has grown to support a community of more than 1500 entrepreneurs, investors, developers, academics, students and corporate innovators.
Who will be speaking?
Alistair Holzhauer-Barrie is a UK and European Patent Attorney and Senior Associate at GJE with almost a decade of experience in the industry.
Alistair works with a wide range of technologies in the physics, engineering, electronics and software fields, drafting and prosecuting patents for medical devices, camera equipment, musical instrument interfaces and many others innovative products and processes.  In addition to this, Alistair focuses on advising start-ups and SMEs on intellectual property strategy and how to tailor their IP, including patents, to a business plan making sure the IP complements the strengths of a business and can be used to enhance the growth of a business.
The experience Alistair has gained from his focus on IP strategy, patent drafting and prosecution has led to him successfully obtaining grant of patents that protect products with multimillion sales values and playing a key role in the IP due diligence on a company acquisition worth tens of millions of pounds.