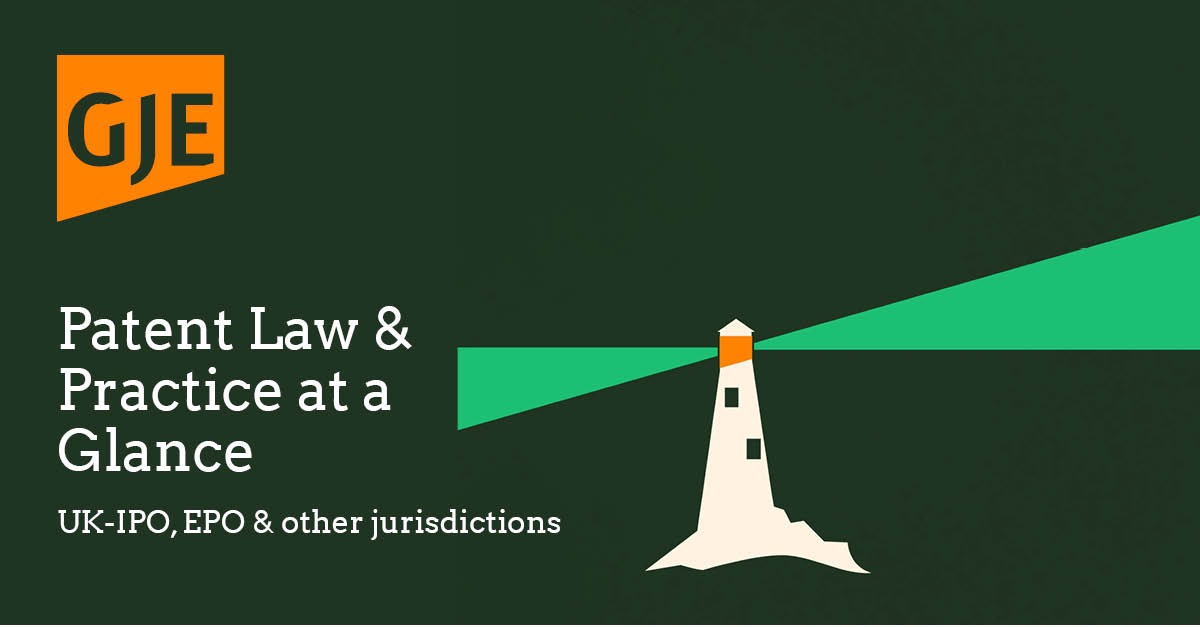 We regularly review changes to patent law and practice at the UK-IPO, EPO and in other jurisdictions so that we can keep abreast of the latest developments. Please feel free to contact your usual GJE contact if you have questions on any of these changes or how they might affect specific cases.
UK
IP in Bahrain, Cambodia, Kuwait, Loas, Malaysia, Oman, Pakistan, Qatar, Saudi Arabia, Thailand, and the UAE
The UKIPO have published guides on IP in these countries.
The full set of International IP Service guides, including ASEAN, Australia, Brazil, Canada, Chile, China, Colombia, the EU and EEA, India, Indonesia, New Zealand, Peru, the Philippines, and Singapore can be found here
Standard Essential Patents explained + questionnaire
A standard essential patent (SEP) is a patent that protects technology that is essential to implementing a standard. The IPO has provided an overview of their work in relation to SEPs including a discussion of the nature of SEPs, how technical standards are developed, and a summary of a previous call for views.
A new questionnaire targeting SME, small-cap and mid-cap businesses has been launched to gather more views on SEPs from these groups.
The overview and questionnaire can be found here.
IPO User research and feedback
The IPO is calling for volunteers to join their user panel to participate in testing their new One IPO Transformation services. Sessions are carried out through Microsoft Teams, typically run between 60-90 minutes and include conversations in a 1:1 setting. More details on the user research sessions and a survey to register can be found here.
Viscount Camrose announced as the new IP Minister
Viscount Camrose was appointed Parliamentary Under Secretary of State in the Department for Science, Innovation and Technology on 7 March 2023. The announcement from the IPO can be read here.
Meet the IPO Board: Deputy CEO Andy Bartlett
An interview with the Deputy CEO of the IPO discusses his time at the IPO and the upcoming 'One IPO Transformation'. The interview can be read here.
IPO Article: On the ball – the year Six Nations rugby got smarter
The IPO have published a brief article discussing patents and trade marks in a rugby ball. The full article can be read here.
UK-China IP newsletter
The latest edition of this newsletter can be found here.
Filing statistics
The statistics for January 2022 are now available here. Statistics for previous months can be found here.
Customer service standards
The latest update on how the IPO are doing relative to the targets they have set themselves can be found here.
EPO
Extension of time limits in view of earthquakes in Türkiye and Syria
In view of the earthquakes in Türkiye and Syria the EPO has drawn attention to the general legal remedies provided for under the EPC in cases of non-observance of time limits, in particular, to the application of Rule 134(2) EPC in accordance with this Notice, as well as the potential application of Rule 134(5) EPC and Rule 82quater.1 PCT. In the case of parties who reside in Türkiye or have appointed representatives with their place of business in Türkiye, time limits expiring in the period from 6 February to 6 April are extended to 7 April 2023 pursuant to Rule 134(2) EPC. More details are set out here.
Decommissioning of outgoing faxes
As of 1 March 2023, the EPO is no longer sending faxes in proceedings under the EPC. Details of the change are given here.
Information from the Boards of Appeal
Supplementary publication 1, OJ 2023 has been published. This sets out information from the Boards of Appeal including the composition of the presidium of the Boards of Appeal, business distribution, and texts relating to proceedings such as the Rules of Procedure.
FOREIGN LAW
Republic of Korea
Sequence listings
The ST.26 sequence listing standard has come into force in Korea for applications with filing dates of 1 July 2022 or later.
Expedited examination of semiconductor and blockchain applications
The KIPO will be offering expedited examination of applications in certain cooperative patent classification (CPC) classes relating to semiconductor and blockchain technologies. The program will run from 1 November 2022 to 31 October 2023.
Japan
In Japan, the Applicant may file a divisional application upon filing an Appeal against a Notice of Decision to Refuse. From April 1, 2023, the examination of a divisional application may be suspended upon the request of Applicant until the conclusion of the pre-appeal review and/or appeal examination of the parent application is available. This will allow the results of the appeal to be taken into account for examination of the divisional application.
United States
USPTO to issue electronic grant certificates
From 18 April 2023, the USPTO will begin issuing grant certificates electronically. There will initially be a transition period in which hard copies will be issued alongside the electronic copy. After the transition period, hard copies will only be available on payment of a fee. More information is available here.
PPH program with Malaysia
On 2 March 2023 the USPTO launched a PPH program with the Malaysian patent office.
Brazil
National holiday
The Brazilian patent office will be closed on 7 April 2023 and deadlines falling on that day will be extended automatically to 10 April 2023.
PPH program
The PPH program in Brazil has an annual limit of 800 requests. In the first two months of 2023, 303 PPH requests were filed and the annual limit is expected to be reached by May or June.
Rules on inventions generated by researchers
Brazil has recently introduced rules relating to inventions generated by researchers sponsored by the Brazilian government. These impose duties on the researchers not to perform prejudicial disclosures and also have implications for ownership.
China
The Chinese patent office will be closed on Wednesday 5 April 2023 for a national holiday. Deadlines falling on 5 April 2023 can be automatically extended to 6 April 2023.
Taiwan
The Taiwan patent office will be closed from 1 April to 5 April 2023 for national holidays. Any official due date falling on the holidays can be extended to 6 April 2023.
PCT
PCT Filings in 2022
In 2022, PCT filings rose by 0.3% over 2021, totaling 278,100 – the highest number ever recorded in a single year. Details of the countries of origin and applicants with the largest number of filings, as well as the distribution of published applications across different fields of technology can be found here (pages 1 and 2).
PCT Information Update
From 1 April 2023, there will be changes to the some of the fees payable to the EPO as receiving office and designated (or elected) office. Full details can be found here (pages 3 to 7).
EPO – Updated PCT-EPO Guidelines
The EPO has announced that the Guidelines for Search and Examination at the EPO as PCT Authority ('PCT-EPO Guidelines'), which relate to the practice and procedure to be following in various aspects of the handling of international applications before the EPO as ISA and IPEA, have been amended with effect from 1 March 2023. Amendments have been made to all part so the PCT-EPO Guidelines. The major change is the expansion of Part A, which now includes a new Chapter VIII on representation containing information applicable to all procedures. For further information, please see https://www.epo.org/law-practice/legal-texts/official-journal/2023/01/a7/2023-a7.pdf. The updated PCT-EPO Guidelines have been published as a complete March 2023 edition that supersedes the March 2022 edition, and are available in English, French and German at https://www.epo.org/law-practice/legal-texts/guidelines-pct.html.
ePCT Update
WIPO is planning to update the design of its website over the coming months and these changes will also affect ePCT. The main updates are currently planned for the end of May 2023, and the new design will be applied to the content of all ePCT webpages. See https://www.wipo.int/portal/en/news/2023/creating-a-better-experience-of-ip.html for further details.
New/Updated PCT Resources
A new/updated ePCT video tutorial for applicants entitled 'Request access rights after filing' is now available. The video provides a step-by-step demonstration of how to request access rights to an international application in ePCT after filing, and is available at: https://www.wipo.int/pct/en/epct/tutorials.html.
The webinar entitled 'What's New for Applicants in ePCT (21 and 23 February 2023) in the 'Everything you need to know about ePCT' webinar series, as well as supporting documents, can now be accessed at https://www.wipo.int/pct/en/seminar/webinars/index.html.
A recording of the first webinars recently presented by Carl Oppedahl (PCT Consultant), together with supporting documents, are now available. See here for further details (pages 7 and 8).
Practical Advice: WIPO Pay – WIPO's online payment platform
The following question is answered: I have recently started using the ePCT system for filing my PCT applications. I have noticed that the International Bureau has an online payment system called WIPO Pay. Can this be used for all PCT applications and what are the different payment methods available? See here (pages 9 and 10).
Practical Advice: Automatic assignment of access rights when filing an international application via ePCT
The following question is answered: I recently used ePCT for the first time to prepare a zip file for filing a PCT application with the United States Patent and Trademark Office as receiving office (RO/US) in order to benefit form the many useful validations that are included in ePCT. Although I downloaded the zip file from ePCT and successfully uploaded it to Patent Center of RO/US, after receiving Form PCT/IB/301 from the International Bureau to acknowledge receipt of the record copy, I realised that I do not have access rights to the application in ePCT. It was my understanding that by uploading zip files created using ePCT I would automatically have access rights to the application in the ePCT system after the receiving office had transitted the record copy to the IB. Why did this not happen in my case? See here (pages 8 to 10)
Other Useful Links
The PCT Seminar, Webinar and Event Calendar can be found here (pages 11 to 13)
The PCT Fee table (as of 1 March 2023) can be found here (pages 14 to 21)
A list of PCT Contracting States and Two-Letter Country Codes (as of 1 March 2023) can be found here (page 22)