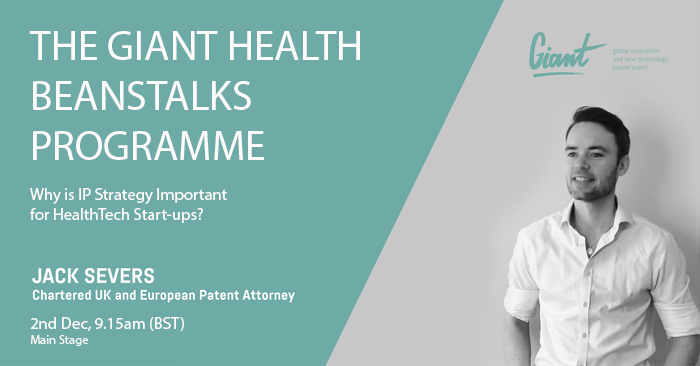 Wednesday 2nd December 2020, 9:00am – 11:30am (London UK – BST)
What does the programme involve?
BEANSTALKS™ at the GIANT Health Event is an international "competition for prizes" for health care tech start-ups.  Early-stage businesses who enter, gain exposure to a huge and diverse audience across the whole Health, technology and business ecosystem.
Entries for the programme are now closed, however, tickets to watch the pitches and the judging rounds are available.  You may use code:CARE25 for 25% off your standard ticket price and sign up to the GIANT Health event.
Beanstalks award categories include:
Ageing: Addressing the needs of ageing population
Women's Health: Healthcare technologies to improve women's health
Mental Health: Recovering and maintaining Mental wellbeing
Immersive technology: Virtual Reality (VR), Augmented Reality (AR), and Mixed Reality (MR) applications in healthcare
Wearables: Wearable technology and digital monitoring of patients
Parkinson's disease: Early diagnosis and treatments of Parkinson's Disease
Inclusion: Supporting Female and BAME entrepreneurs
Health Inequalities: Overcoming the postcode lottery
Covid-19: Containing and conquering a global health threat
Promoting healthy lifestyle behaviour: Obesity, Smoking, Alcohol abuse
The judges include:
Melissa Morris, CEO and Founder of Lantum
Adam Shaw, The Heart Guy, Author of the Lunatic Gene
Simon Hooper, Co-founder, RemindMeCare
Pilar Fernandez Hermida, Founder, i-Expand
Lorena Macnaughtan, Digital Health Advisor
Who will be speaking?
GJE's Jack Severs is a Chartered UK and European Patent Attorney who advises a wide range of clients, from large multinationals to SMEs and university spin-outs across the fields of health tech, electronics, engineering and computer-implemented inventions.
Jack leads GJE's MedTech business development group and has particular expertise in advising early stage Health Tech companies on how best to protect their innovation.  He regularly drafts and prosecutes patent applications for Digital Health inventions which apply computer-implemented technology and software to medical and healthcare applications.
Jack is actively involved in the rapidly growing start-up ecosystem in London and provides IP support to a number of accelerator and incubator organisations, including advising companies on the Digital Health London Accelerator and acting as "IP Expert in Residence" for the Imperial College Enterprise Lab.  Jack has spoken at a number of events, including speaking on the importance of IP strategy at the GIANT Health Event and chairing the Beanstalks competition for Health Tech start-ups.