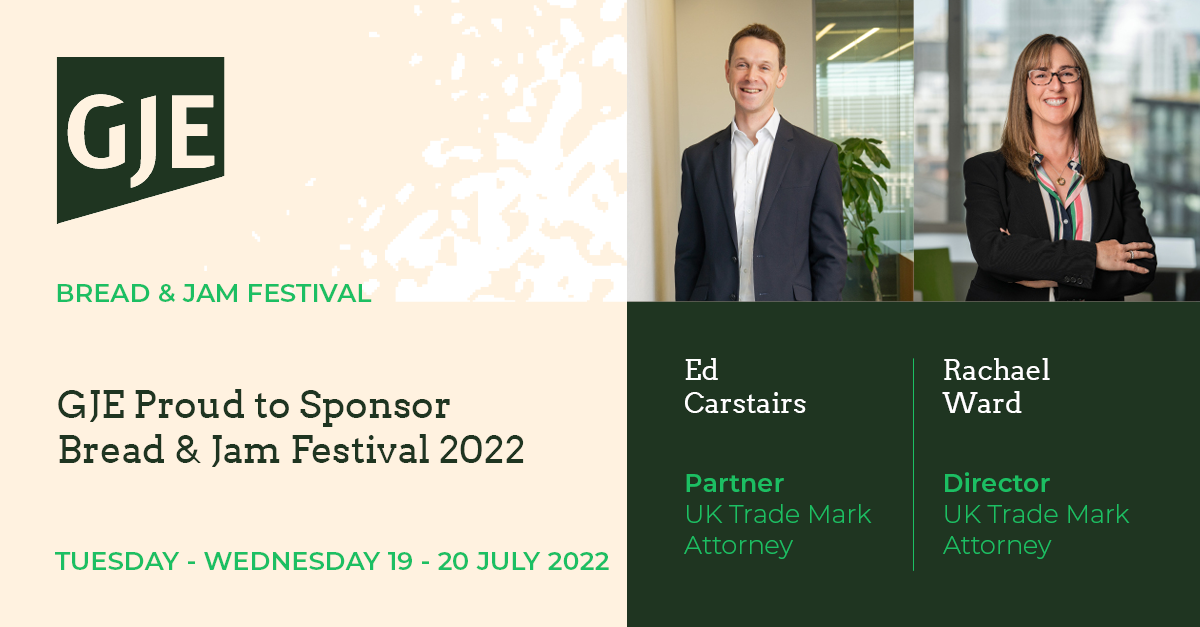 We are proud to sponsor Bread & Jam Festival for the sixth year running. Bread & Jam is a two day, in person annual festival held at the Business Design Centre. It brings together emerging and scaling food and drink brands, innovators, investors and industry leaders for panel discussions and mentoring workshops.
This year Bread & Jam is providing attendees with the following opportunities:
Over 70 hours of ground-breaking industry content
100+ speakers from industry icons to thought leaders who have disrupted the market
60 industry experts, specially curated for working with fast growth food & drink brands
An opportunity to pitch to retail buyers
Networking with 100s of like minded, ambitious food founders
Feedback from retail buyers at the Tasting Panel, powered by Squashed Pixel
Advice from bespoke advice from industry experts at the POD POD, powered by The Space Creative
A chance to showcase products as part of the Producers Table, powered by GS1

From the GJE trade marks practice group Partner and Head of our Food, Drink & Hospitality group, Ed Carstairs, Director Rachael Ward, and Associate Bosé Animasaun will be on hand throughout the festival to share a wealth of knowledge on brand protection within the industry.
On 19 July at 12pm, Edward Carstairs will be taking part in the panel discussion 'Preparing to exit: Maximise the value of your food & drink business', along side Pail Chiappe of Joelson, and Sally Wynter – ex-MUHU. The talk will be Chaired by Fiona Fitzpatrick of Brand Growth Heroes. The talk will cover how can you build your exit into the early stages of your business, how can you maximise value on a limited budget and what can you do to make a big impact, and understanding the role of intellectual property. This includes how to secure trading partners and the agreements you need to have in place to win big when you're selling.
Shoptalk, powered by GJE, will allow attendees to take part in lively panel discussions with successful food founders who have been there and done it, including Lucky Saint, Oggs, Rosie & Fern, BOL, Creative Nature, Griddle and Trip.
To book tickets to the festival please visit the Bread & Jam website here. To discuss your brand protection strategy, please contact Ed Carstairs via edward.carstairs@gje.com.