Agri-EPI Centre Virtual Conference 2021: The Path To Sustainable Farming
26 October 2021
Author: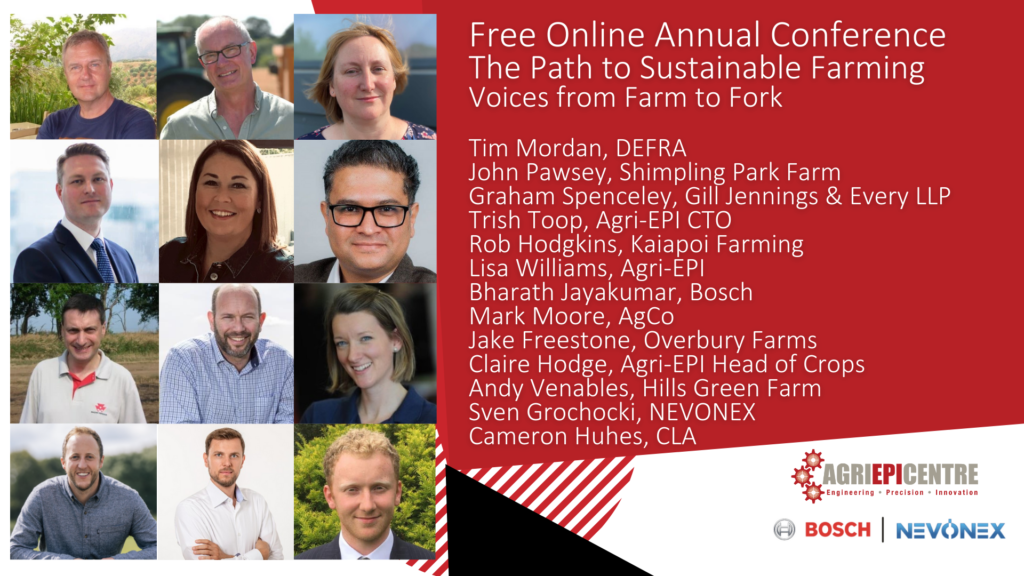 Agri-EPI Centre Virtual Conference 2021: The Path To Sustainable Farming
Sign-up here.
Thursday 28th November 2021, 9:00 AM –  3:00 PM (London UK – BST)
Agri-EPI Centre's annual conference brings together key stakeholders from across the agriculture sector, offering an opportunity for farmers, agri-tech experts and academics to connect, network and discuss crucial matters facing the industry.
This year's theme, The Path to Sustainability, encourages attendees to consider agri-tech's role in the future of farming and how it can support farms to improve productivity, sustainability & resilience across the diverse range of soils, systems, objectives and infrastructure that comprise the UK farming sector.
Graham Spenceley will be taking part in the panel discussion 'Developing Agri-Tech to Delivering On-Farm'. It can be hard to imagine the development from abstract sci-fi concept to practical on-farm solution. This talk will explore the agri-tech journey from developing software and tech solutions to delivering them on-farm.
To find out more about GJE's partnership with Agri-EPI please click here.
Get in touch
If you are an ambitious business and you expect an IP service provider that can understand and help you achieve your commercial objectives, then we want to work with you. Complete the enquiry form below and one of our specialists will be in touch within one working day. Alternatively you can call us on +44 (0)20 7655 8500. We look forward to hearing from you.