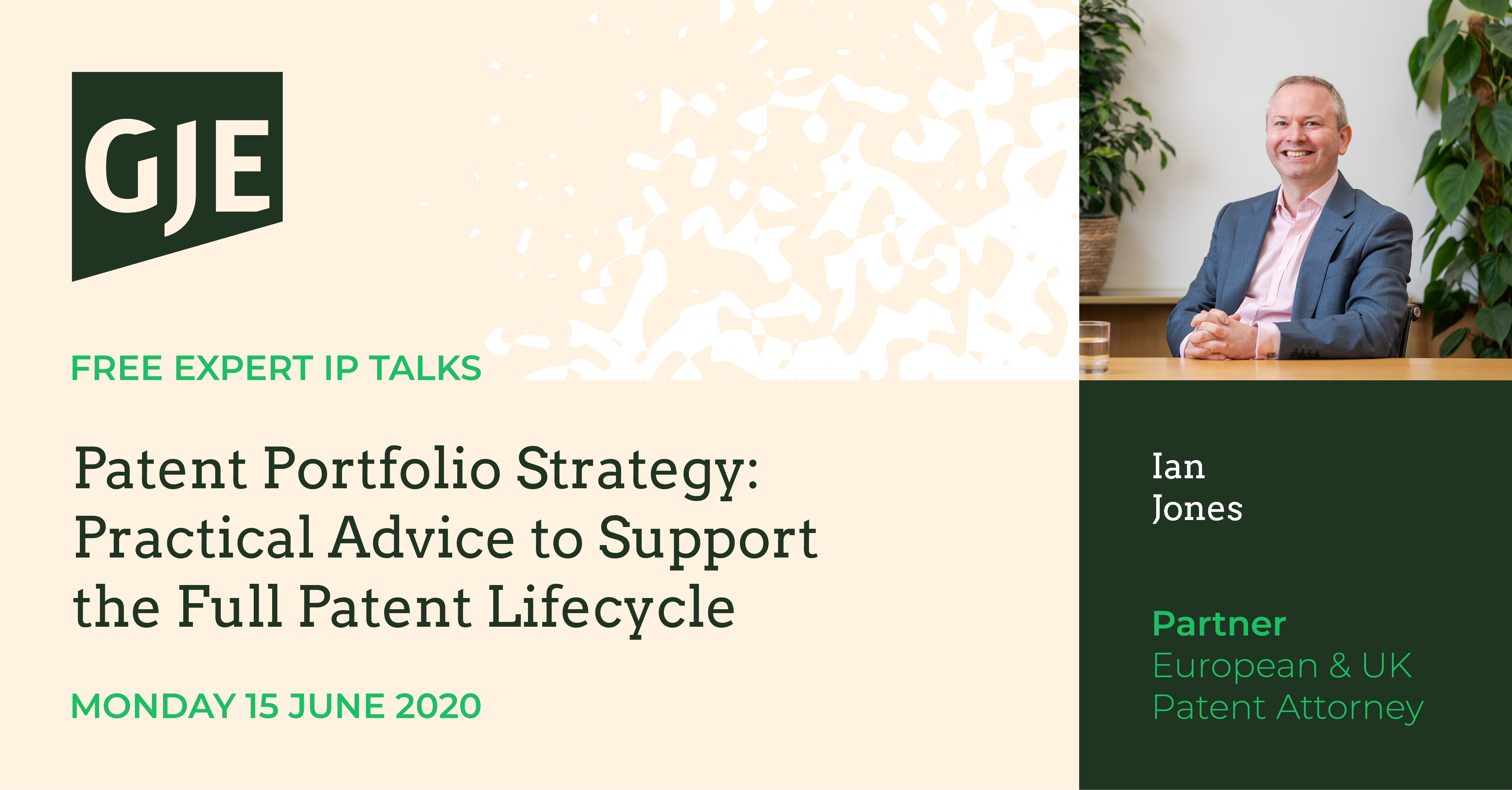 Monday 15th June 2020, 2:00pm (London UK – BST) 45mins
What will the talk cover?
GJE Expert IP Talks will be delving into all of the core areas of IP practice.  The focus will be on UK and European systems but we will also cover the worldwide context.
This talk in the series will offer you practical advice for implementing a patent strategy, together with patent lifecycle management tips, to help track and manage your company's innovation and leverage its commercial value.
We will reveal a series of simple steps that will allow you to manage your patent portfolio efficiently and effectively.  This includes processes for capturing protectable innovation, and maintaining an IP database (and why this is important), as well as best practices for dealing with innovative employees, plus patent searching techniques to help you uncover your competitors' activities.  We will discuss what to consider before filing a patent application, and your expectations from the patenting process.  Finally, we will look at unlocking the value of your patent assets.
Who will be speaking?
Ian Jones is a European and Chartered UK Patent Attorney. He specialises in the pharmaceutical and industrial chemistry sectors, and extends his reach into related sectors, like biotechnology and medical devices.
Working with a wide range of clients, Ian guides start-ups through the fundamentals of IP, helping them understand how IP can support their business.  He assists spinouts and SMEs to establish and develop their IP portfolios, and has helped multinational corporations by delivering clear and actionable recommendations on their IP.  Ian's commercial advice is supported by a wealth of experience in patent drafting and prosecution in the UK, Europe, the US and East Asia.
Clients say that Ian is "the most approachable person which is really important because as things keep evolving I have to know I can get hold of him to discuss things with him", and "Ian is always very responsive if we have urgent requests … I know I can rely on Ian to have the latest and most accurate information when I need it".