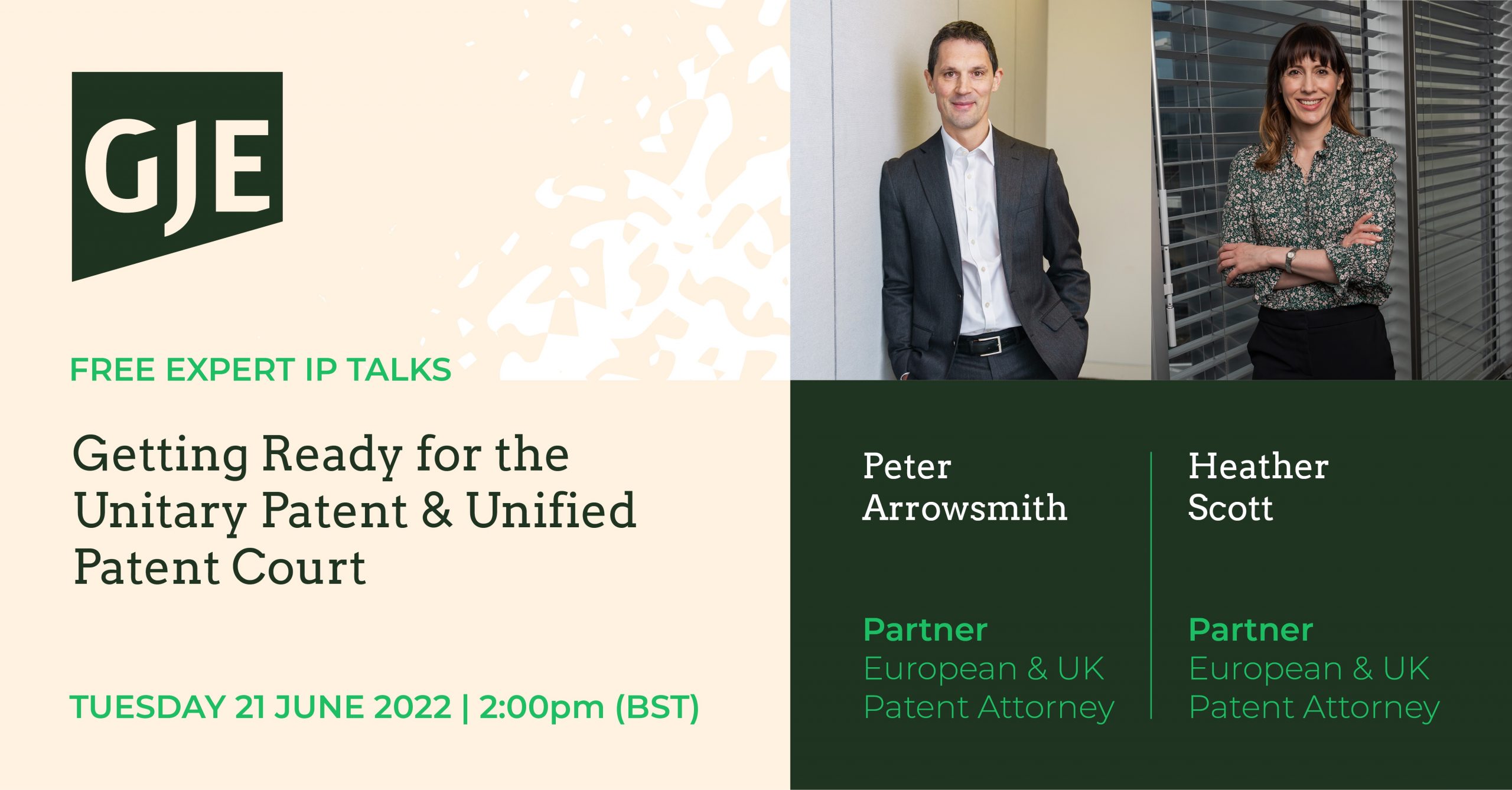 Tuesday 21 June 2022, 2:00 pm (London UK – BST) 45mins
This talk will be delivered online. Click here to sign-up.
What will the talk cover?
The introduction of the Unitary Patent (UP) and Unified Patent Court (UPC), expected by early 2023, will bring about one of the most significant changes to the European patent system since the 1970s. Once in force, a Unitary Patent will be enforced, invalidated and renewed as a single right through the UPC, a new pan-European court.
In this webinar, GJE's European Patent Attorneys will provide expert guidance on the benefits, risks and costs these reforms pose for patent proprietors and applicants and what action should be taken in preparation. The talk will cover key UP and UPC related topics including:
• What are the UP and UPC?
• How do the UP and UPC differ from the current system?
• How does Brexit affect the UPC?
• What is the UPC opt-out? / What is the effect of the opt-out?
• How do I obtain a UP and what are the benefits of doing so?
• What are the transitional provisions to phase in the UP system?
• What costs and fees are involved?
Who will benefit from this talk?
• Patent Attorneys from outside of Europe
• General Counsel
• IP Managers
• UK IP Solicitors
• Founders/Innovators
Who will be speaking?
Peter Arrowsmith is a European and UK Patent Attorney whose technical focus is in physics and electronics, with specialisations in optics and software. Peter is particularly interested in computer-implemented inventions and some of his clients in this area have been involved in artificial intelligence, digital rights management, cloud computing and social networks. Peter works with in-house departments for a number of US companies to support and develop their European IP portfolios. Peter also works with large multinationals based in Europe working on some of their latest innovations and getting involved in the patent drafting process, overseas prosecution and contentious matters such as EPO oppositions.
Heather Scott is a European and UK Patent Attorney with nearly two decades' experience in the IP industry. With a technical background in physics and materials science, she works with patents across a wide range of IT and Engineering technologies. Heather also deals frequently with design projects, protecting all types of products from toys to land surveying equipment. Heather works with a diverse set of clients: large multinational companies, SMEs, and private inventors. She enjoys getting the inside track on her clients' technology and their industry, so she can bring added insight relevant to each client's specific aims and requirements.