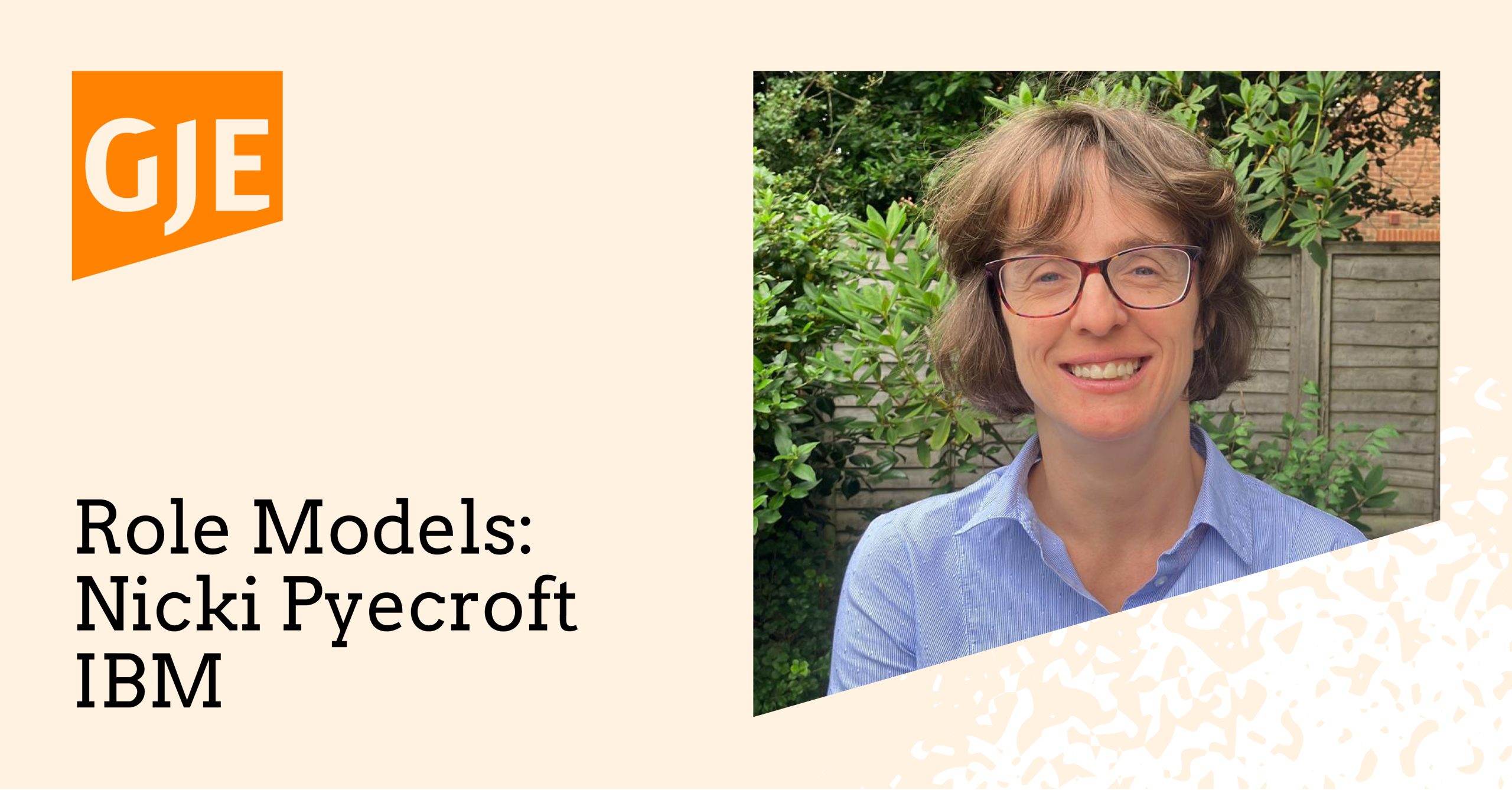 Continuing on the GJE Role Model Series, which aims to celebrate the achievements of people from under-represented groups within STEM, highlight the progress that has been made to make organisations more inclusive, and discuss what still remains to be done, we were privileged to interview Nicki Pyecroft, IP Law Counsel, and European & Chartered Patent Attorney at IBM. Nicki joined IBM in 1998 as a sponsored student in BSc Computer Science and was then the only woman in her department.
Please provide a short introduction (for example, your background, education, career progression, current position etc.).
I joined IBM's UK IPLAW department in 1998 as a trainee patent attorney at Hursley and twenty five years later, I am now IP Counsel here!
I did a post graduate certificate in Intellectual Property at Queen Mary, qualified as a European Patent Attorney in 2003 and then as a UK Patent Attorney in 2004.
Working at IBM gives you the chance to experience so many different technologies and roles. Whilst my core skills lie in invention protection and patents, I get to advise the business on all aspects of Intellectual Property, including open source, copyright, standards and trade marks. For example, IBM is Wimbledon's technology partner and I get various queries on that every year!
How did you find out about the patent profession, and what motivated you to join?
I actually joined IBM in 1995 as a sponsored student. It was a great course where we studied for a BSc in Computer Science, whilst working for IBM at their UK HQ (North Harbour, Portsmouth). We were paid a salary for three years and worked for them full time with day-release to University. I got involved in a variety of projects, including installing Novell Netware servers in France, preparing IBM's internal account for the Year 2000 and working in the City on a banking customer's site.
At the end of the three years, we then had to either find a job in IBM or look elsewhere. I had really enjoyed the technical side but wondered whether I should actually return to my roots. My A-Levels were in the Arts (History, German, Latin and French). I have quite an analytical brain and enjoyed writing and arguing my case. I initially considered the legal profession (I had done a Computer Law module at University). However, I had just completed three years of study and doing a law degree would mean starting back at University again and this time I wouldn't be paid!
A colleague at work then mentioned 'patents' to me. I knew very little about patents or what a career as a patent attorney entailed but arranged to visit IBM's IP department at Hursley. I am not sure they were looking for a new recruit at the time, but I went knocking on their door and they agreed to let me spend a week with them, understanding what they did. One of the patent attorneys took me through claim drafting. I hadn't even heard of claims before. We took a pair of scissors and he guided me through the process. He showed me the importance of every word chosen!
That week excited me because here was a career where I could combine my technical skills with my written ones!
Have you have faced any barriers as a woman in a STEM career?
My background was not technical, but I wanted to study a vocational subject. Computer programming and a career in technology did not come very naturally at first. IBM took on nineteen sponsored students in 1995 and I was one of two women. I remember my male flat mate (who was also on the course) used to give me a lot of help to keep up!
On my first proper day working for IBM, I was given a server to take apart and put together again. I am not a very practical person, and I hadn't got a clue what to do …. but I learned!
When I joined the patent profession, I think there was a fairly good mix of men and women, although my guess is that there were far fewer women in my area of technology (computer science). Certainly, in my department, I was the only female attorney. Whilst this wasn't a barrier as such, it did take some getting used to.
Have you noticed any progress in diversity and inclusion throughout the course of your career? What do you believe has driven any progress that you have seen?
Definitely! When I joined IBM I was the only female attorney in our department and I would go to meetings with the business and often the room would be full of men. Now, that same IP department, only has one male attorney and there is a very even mix at our business meetings.
What advice would you give to women considering a career in intellectual property?
Qualifying in the IP profession isn't easy and takes a lot of hard work. It took me six years to fully qualify and many take longer. The job is very challenging and even now I am still always learning and don't always know the answer. That said, it is a wonderful (and yet, unusual) combination of technology with language skills. For example, you need to understand how something works and to be able to explain this to others. You need to be able to analyse a situation to work out how an invention is different from what has gone before and you need to be able to persuade the Patent Office, either in writing or sometimes at a Hearing.
It is worth thinking about where you might like to train. I have always worked in Industry but Private Practice is an option too. I believe the roles are quite different. In Private Practice you are likely to spend more of your time concentrating on the core skills of your chosen specialism (Patents or Trade marks). For example, as a patent attorney you will likely be drafting patent applications and prosecuting (arguing your case with the patent office as to why a patent application should be granted). In Industry your experience is likely to be more varied and you may well have more autonomy. For example, although I trained as a patent attorney, I discovered that I love trade mark work!
It is important therefore to think about whether you would be more suited to a career in Industry or one in Private Practice. There is of course nothing wrong with trying both!