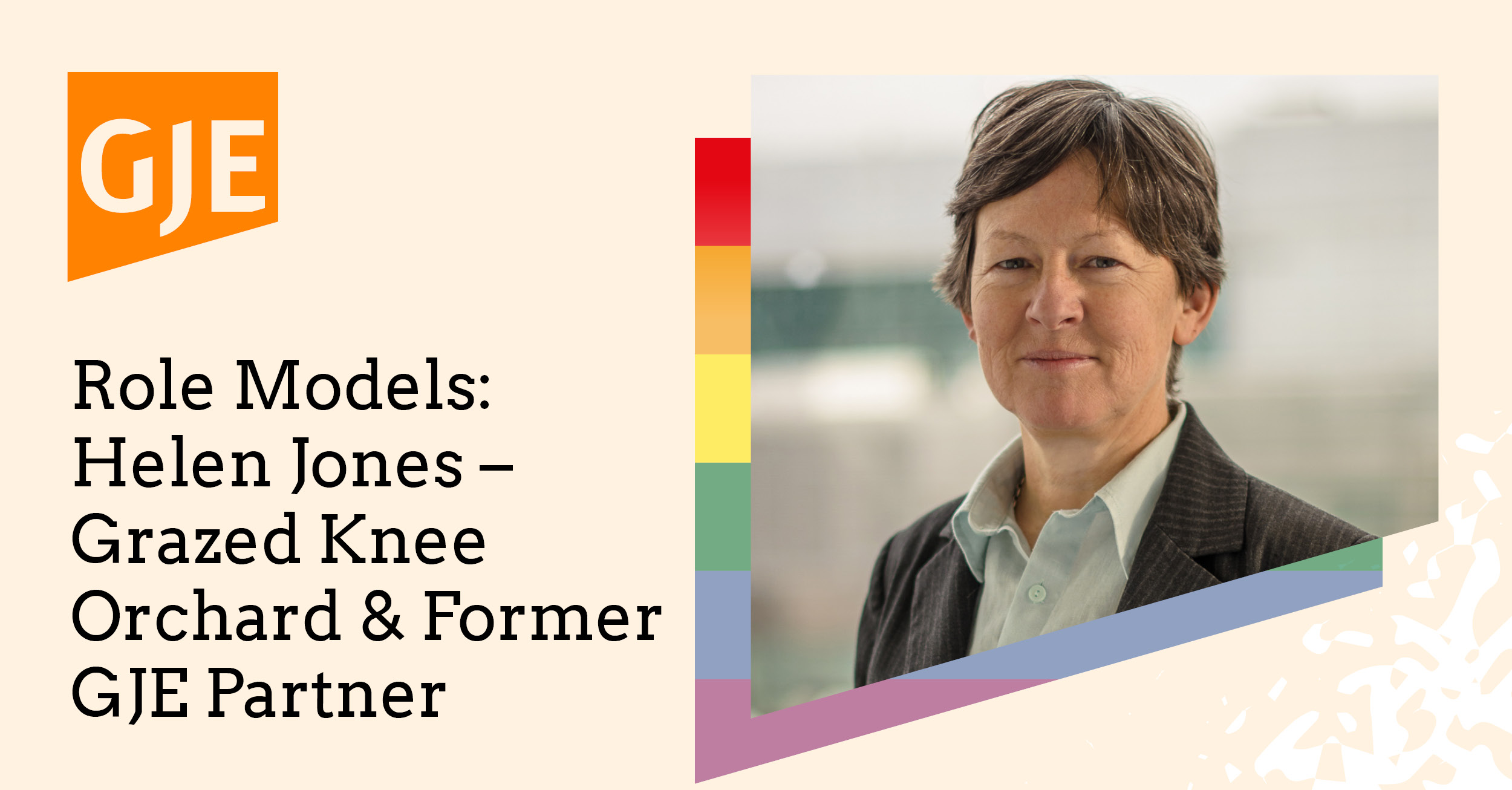 In continuation of our Pride 2022 celebrations, we are delighted to publish another GJE Role Model interview article featuring Helen Jones – a patent attorney and former Partner at GJE. Following her retirement from our firm in 2016, Helen delved into the world of cider and is now the Chief Cider Officer at her company Grazed Knee Orchard.
Helen holds a degree in Natural Sciences, specialising in Biochemistry, from the University of Cambridge. She highly valued the flexibility in her course to take a breadth of subjects, which enabled her to discover her love for various specialisms in STEM. Ultimately, this stood her in good stead for when she joined the patent profession straight from university in 1982, and was called on to draft patent specifications in a range of topics. In her long and successful career in patents, Helen progressed in a couple of different patent firms, and became a highly-respected partner at GJE. Helen was popular with clients and colleagues alike, and in her 26 years as a partner, she became the head of the Chemistry and Life Sciences group, and served on the firm's managing committee. Helen is now pursuing a cider-making venture from an orchard and cave in the Isle of Wight. She is an advocate for the LGBTQ+ community, having participated in Pride around the globe since the mid-80s; and having recently helped with the heritage and oral history project Out on an Island, which aims to share the histories of LGBTQ+ people on the Isle of Wight.
What motivated you to join the patent profession?
"I found the parts of my degree course involving paper research more engaging than the laboratory work. Following up on leads and cross-references was fascinating. I liked the written part of the work. Challenging a thesis put forward by researchers, arguing a contrary position and being listened to by experienced scientists was also rewarding at university. I did know a patent attorney who was the parent of one of my best friends, and he'd been kind enough to take me to his office for a few days. He'd been working on a case to do with folding umbrellas, and set me the problem to describe the similarities and differences between three samples he had. I thought that was right up my street."
What have some of your career highlights been?
"My first position was in a firm that had the justified reputation of taking on a high proportion of women. There was a woman partner, and several other senior and experienced women attorneys. Many women in other firms and companies had worked there for part of their careers. Back then it was quite an unusual situation. My second job was in the firm where I passed all my exams and spent the rest of my patent career, Gill Jennings & Every. As a firm, it had more UK-based clients, and I was excited to have face-to-face meetings with them from the first week on the job.
Within a few months of starting I was working on a patent infringement case, involving witnessed experiments to prove real-life improvements in baby diapers. These involved toddlers cavorting around a civic centre and scientists applying coloured water to the pad and inspecting the leakage or lack of it. High Court litigation was a great team event. For weeks we'd be in court daily, two-course lunches in Chancery Lane's best restaurants had to be wolfed down, and evenings spent poring over transcripts of the proceedings. I was a natural. Diapers kept me very busy for the next few years, with many a trip to Germany and the US as well as the north of England. Working with such a skilled in-house IP department taught me a lot.
The partner I worked for was elected to be president of our institute, so I had a great opportunity to get to know his clients to allow him time to devote to the role. It was a critical time, as the government were pushing to liberalise the professions, which involved an investigation by the Office of Fair Trading, which took the view that some of the practices were uncompetitive. The outcome allowed unqualified advisers to act as agents for clients in the UK patent office, but at least retained protection for the title "patent attorney". That partner's experience responding to the government's moves, as well as his litigation experience and understanding of clients' need for faster justice led to him pushing for the first iteration of the Patent County Court. That project too gave me the chance to ensure his clients were properly supported. One particular company based in Yorkshire were great fun to work for. We'd visit every couple of months and go through an agenda with several new inventions to be patented, and the prosecution of another couple of dozen cases. It kept me on my toes.
In the 1990s several of our clients floated on the London Stock Exchange, and the AIM. The UK was realising the value of knowledge, and for some of these IPO's we were engaged to draft IP reports. Being quizzed by the investment bankers about the IP strategy and the patent portfolio was a seminal experience. One company I drafted such a report for actually joined the heady heights of the FT500 at one point. I advised them through a number of divestments and investments, or proposed investments. Working with them was certainly a highlight.
The best bits of my career were supporting so many recruits, watching them qualify and seeing them develop fantastic careers for themselves, at GJE, but also in other firms and companies in the UK and around the world. Believing that I have a legacy, in that so many may have learned some useful lessons from me that have stood them in good stead, is the overriding sense from my 35 years in the profession."
Have you noticed any progress in diversity, equality and inclusion throughout the course of your career?
"For sure. I recall early in my career, I was prevented from attending conferences and client events with my partner or being open about the fact that I was a lesbian. This made it really difficult for me to foster relationships with contacts and develop clients without being able to bring my whole self or share personal information. In some respects, it made me reluctant to even try to get to know clients as it could not be mutual. So most of the time I kept quiet. It was a different thing with work colleagues and my peers in other firms.
Of course things moved on, but I remember feeling restricted in a way that is not tolerated today. In the very last year of my career in IP I spoke about this at a conference about leadership in front of a room of women. Of course no one blinked an eye! I hope that sharing my experience has had a positive impact on at least one of the women there, if only to remind people that assumptions about who is back at the home of a working woman is not necessarily a man. And now here I am writing an article for GJE's website on the same topic – a clear indication of how much has changed.
More generally, there have been movements over the years to increase DE&I. It's kind of obvious that you get the best out of people if they are included, and feel included, in decision-making. Enabling people to be themselves and not have to hide part of themselves away, makes for open discussions and development."
What does Pride mean to you? Will you be celebrating Pride Month?
"I've participated in Pride over the years, from the mid-80s in lots of fun marches and parties in London, to parades in Germany, Sydney and New York City. I'm not so keen on crowds these days, so my Pride Month will involve leading some bike rides around some local spots associated with the LGBTQ+ community on the Isle of Wight. Last year I helped out on a project that created oral histories of many LGBTQ+ people on the island as well as a book, Out on an Island, and a film and exhibition that explored some of the well-known island-based people through history and currently."
What advice would you give to LGBTQ+ individuals considering a career in intellectual property?
"As people who may feel part of a minority in terms of gender and/or sexuality then you'll feel comfortable in a profession that's small and a bit unusual too. There are now great and supportive networks within IP and more broadly in the legal field. Don't fear to stand out. It's good to be extraordinary."
GJE takes PRIDE in supporting diversity & inclusion in the IP profession. We are a proud member of IP Inclusive and supporter of IP Out.