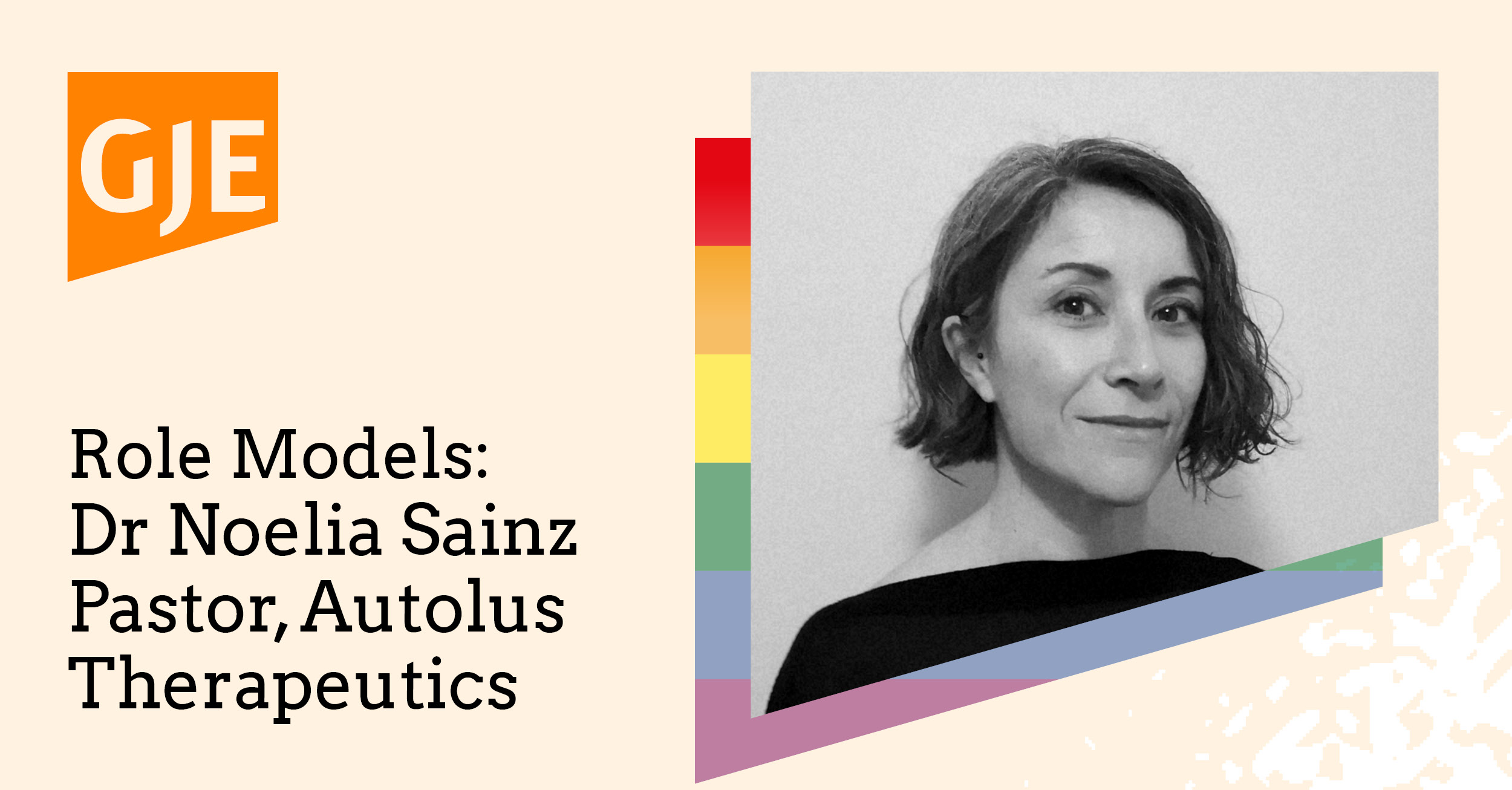 In celebration of Pride 2022, and in continuation of the GJE Role Model Series, we have interviewed Dr Noelia Sainz Pastor, who is a Patent Attorney, Director IP at Autolus Therapeutics – a leading clinical stage CAR T cell therapy company developing advanced autologous T cell therapies for the treatment of cancer. The GJE Role Model Series aims to celebrate the achievements of people from under-represented groups within STEM, highlight the progress that has been made to make organisations more inclusive, and discuss what still remains to be done.
Noelia was born in Spain and holds an MSc in Biochemistry from the Universidad Complutense de Madrid, as well as a PhD from the UCL Cancer Institute. Her research focused on the application of a new type of synthetic binding molecule (DARPin) in targeted therapies for the treatment of colorectal cancer. She continued her career in research in Spain in the field of antibody engineering, before switching careers to become a patent attorney at one of Spain's leading IP firms. Following a move back to the UK, Noelia progressed through a couple of in-house roles and now works in a small in-house IP team at Autolus, where she is responsible for IP matters arising from the Binder Discovery, Translational Medicine and Clinical Development teams. In addition to her IP work, Noelia has played a pivotal role in shaping the inclusive culture at Autolus by co-founding and leading the employee resource group DICE – Diverse Individuals Celebrating Equality.
What motivated you to join the patent profession?
"Like most in the profession, I didn't grow up dreaming of becoming a patent attorney but instead I wanted to do research in a therapeutic field. I quickly realised that the academic career wasn't for me and I started looking for alternative career paths outside of academia where I could use my scientific background. At that point, the patent profession hadn't even crossed my mind but, luckily, I did some rough patent landscaping work for my post-doc project and the experimental results formed the basis of two patent applications. This triggered my curiosity and led me to enrol on the CEIPI Basic Training Course in European Patent Law, which opened the door to a trainee position in a leading Spanish IP firm."
Could you please tell us more about the DICE group that you co-founded and lead in your current role? What sparked the idea of starting the group?
"DICE stands for Diverse Individuals Celebrating Equality and it is the first employee resource group set up at Autolus, which focuses on sexuality and gender identity. We have three lines of activities: (i) we work with the organisation to bring about policies that help to shape a truly inclusive work culture; (ii) we produce social and informative events to raise awareness and increase our visibility; and (iii) we provide support and advice, in confidentiality.
Our beginnings date back about 3 years, when a group of LGBTQ+ and ally colleagues felt the need to create a community where we could socialise, share our experiences and support each other. Our then new HR director suggested that we set up an employee resource group, and we launched DICE in December 2019. When the pandemic hit the UK soon after, we managed to maintain engagement online by producing a series of virtual events, including drag king and drag queen shows, queer quizzes, a Christmas party, and several informative events on LGBTQ+ history. We also created a DICE site in the company's intranet and filled it with links to useful organisations, a LGBTQ+ library, news and events, and information on sexual health and STI clinics. It has kept us busy but the feedback has been amazing!
I recently also joined the team at OUTbio UK, the UK chapter of the biotech industry's largest LGBTQ+ professionals' group in the US whose mission is to empower the LGBTQ+ community and its allies in biotechnology and affiliated industries. This unique opportunity to support the community is exciting and I'm hoping to expand on the work started with DICE."
How has DICE helped influence the inclusive culture at your company?
"By sharing the LGBTQ+ history and culture we have allowed our colleagues to be curious and learn from our experiences, and this has increased the empathy and acceptance towards the community. I see this reflected in simple things like the use of rainbow lanyards, which is very extended across the company, or the attendance at our events.
Additionally, DICE proactively works with the company to develop initiatives to improve inclusion. For example, we have reviewed our internal DE&I policies and soon we will be implementing the optional use of pronouns in email signatures across the organisation, which I hope will open meaningful conversations about preferred pronouns. Another example is that Autolus recently facilitated a forum for the LGBTQ+ folks and allies to socialise with other biotech professionals by hosting networking drinks for OUTbio. I'm very proud of the impact that DICE is having but I also realise that none of this would have been possible had the company and our colleagues not been so supportive."
Have you noticed any progress in diversity and inclusion throughout the course of your career?
"Absolutely. At the beginning of my career, workplaces were diverse and accepting but there was a lack of specific inclusion policies, and D&I was rarely on anyone's agenda other than to do metrics and tick boxes. Nowadays, the data demonstrates that diverse teams perform better, and leaders are committed to D&I and to create a sense of belonging. There are also several programs and organisations that work to empower and train individuals from different minorities for leadership. In my opinion, work still needs to be done but we're moving in the right direction."
What does Pride mean to you? Will you be celebrating Pride month?
"To me, Pride is a celebration of the rights and freedoms that we fought so hard to gain – let's not forget that the last piece of legislation that discriminated against the LGBTQ+ community (Section 28) was in place until 2003. And we celebrate big and loud! But Pride has been and continues to be a protest – although many rights have been achieved there is still more work to be done, as we still see discriminatory policies against the LGBTQ+ community that are a continuous reminder that the hard-won freedoms may one day be taken away.
For Pride month, DICE is preparing a big party at our London office – our first ever on-site live show with our favourite drag performer Margo Marshall. This event is sponsored by OUTbio and it will be fantastic to mingle with its members again. This year is also the 50th anniversary of the UK's first Pride march and it's wonderful that the Pride parade is back after a 2-year hiatus caused by the pandemic. I will definitely go to the parade and the parties organised by Pride in London on 2nd July. The following weekend, I will also join the protest march for London Trans+ Pride on 9th July, which is particularly important this year."
What advice would you give to LGBTQ+ individuals considering a career in intellectual property?
"This is a fantastic and intellectually rewarding career but beginnings are tough at times and studying for the exams can feel isolating. Work hard and never hesitate to ask for help when you need it. Network with other colleagues and clients from the start, create a community around you – it is important to feel supported at different levels. There are networks specific to the community – check the excellent work of IP Inclusive and its subgroups IP Out (the LGBTQ+ network for IP professionals) and IP Futures (for early career stage IP professionals). Reassess your goals regularly to make sure that they are still relevant as you grow into the profession and your life changes."
GJE takes PRIDE in supporting diversity & inclusion in the IP profession. We are a proud member of IPInclusive and supporter of IP Out.