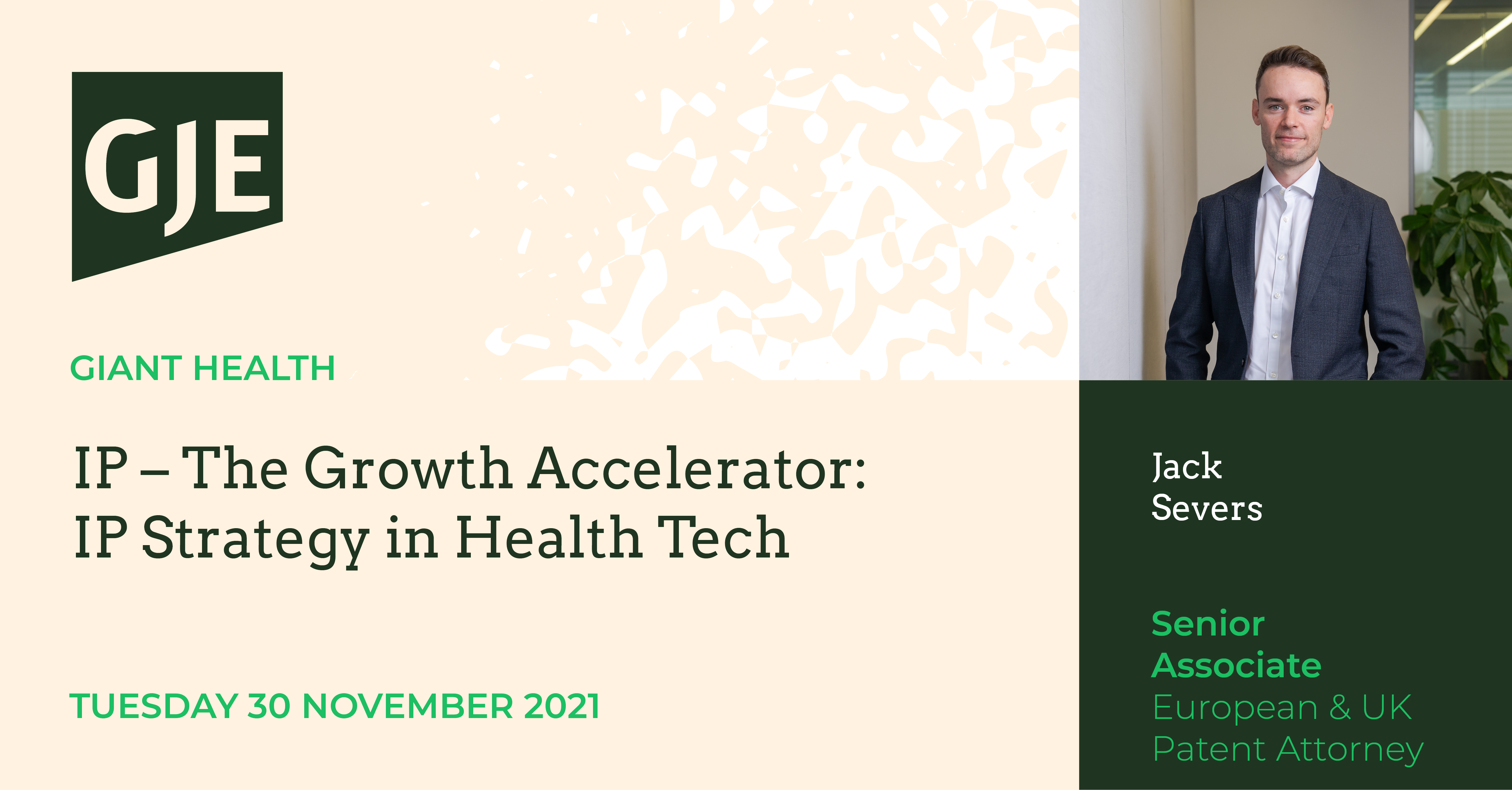 Tuesday 30th November 2021, 10:00 am (London UK – BST) 30mins
What will the talk cover? 
Chartered UK and European Patent Attorney Jack Severs will be giving a talk as part of The GIANT Health Event's 2021 platform "Pitching For The Future".
Over the last two years innovation in healthcare has accelerated further from an already rapid pace, with more patent applications being filed for medical technology that in any other field.  But how can HealthTech innovators harness the maximum value of this innovation to drive growth of their ventures and the widespread adoption of their ideas?  Recent research shows that SMEs that develop and implement an appropriate IP strategy are more likely to be high growth companies – but what exactly does IP strategy look like in a HealthTech context? This talk looks at the key considerations in developing an IP strategy as an early stage HealthTech company and tackles the questions we're asked most frequently by innovators in this field.
Who will be speaking? 
Jack Severs is a Chartered UK and European Patent Attorney who advises a wide range of clients, from large multinationals to SMEs and university spin-outs across the fields of health tech, electronics, engineering and computer-implemented inventions.
Jack leads GJE's MedTech business development group and has particular expertise in advising early stage Health Tech companies on how best to protect their innovation. He regularly drafts and prosecutes patent applications for Digital Health inventions that apply computer-implemented technology and software to medical and healthcare applications.
About GIANT Health 2021 
GIANT Health 2021, taking place at the Business Design Centre in London 30 November 1 December is Europe's largest healthtech event and will welcome emerging and scaling health-tech brands for two days of expert talks, exhibitions and start-up competitions. GJE's expert MedTech team will be on hand at our exhibition stand to answer all your intellectual property related questions, and you can sign-up for a free consultation with a member of the team here.