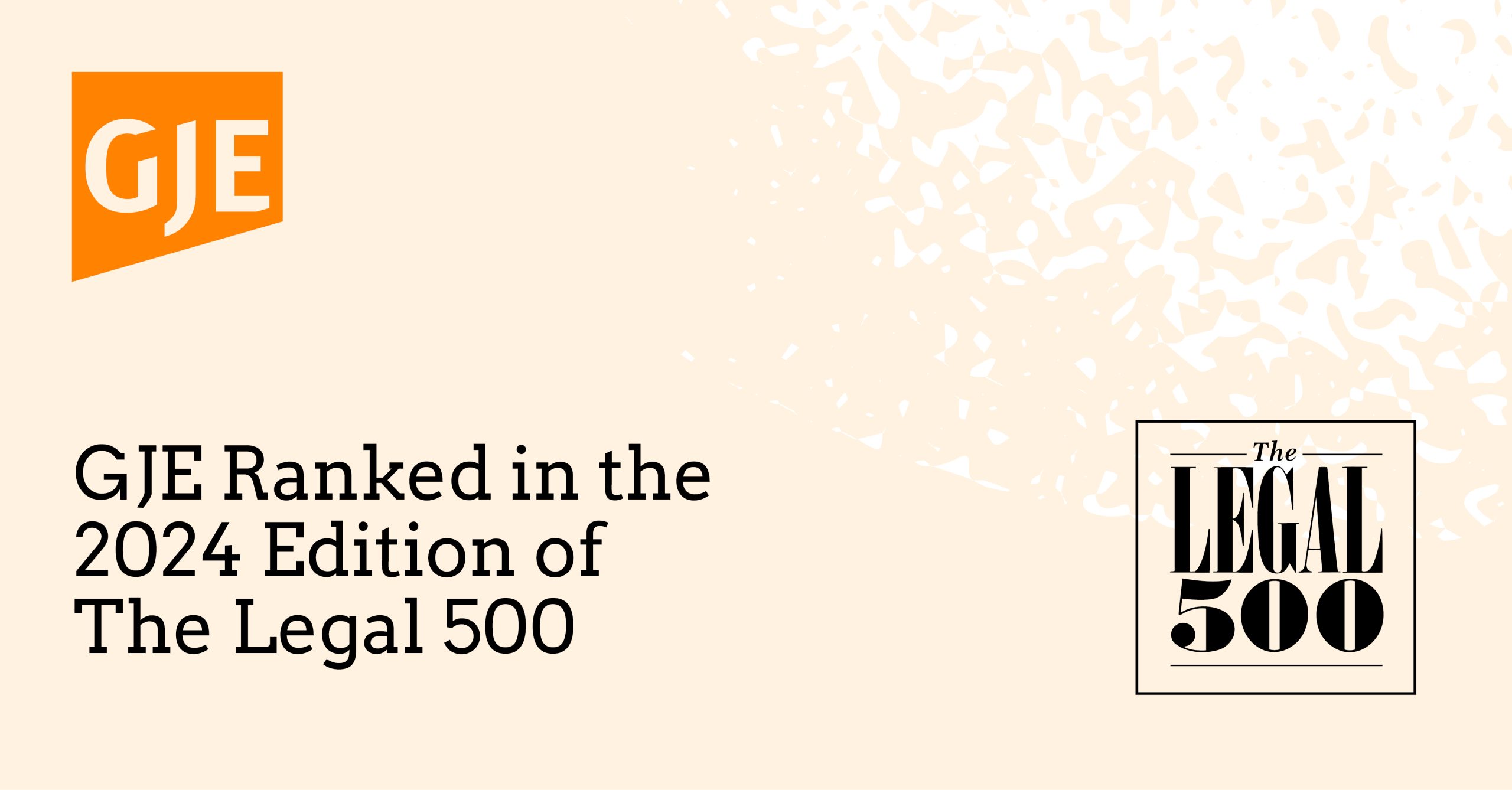 We are delighted to be recognised by The Legal 500 in the 2024 rankings. The Legal 500 provides a worldwide review of the best and most recommended law firms and attorneys. The rankings are based on practice area teams who provide cutting-edge and innovative advice.
We'd like to congratulate our patent partners Michael Lord, Stephen Haley, Peter Arrowsmith, Graham Spenceley, Arnie Clarke, Matthew Hoyles, Heather Scott, Lucy Samuels, John Fisher, John Jappy, Ian Jones and Ross Cummings who have all been recommended by the publication.
Here's what our clients had to say about GJE's patent attorneys:
"There are so many positive things to say about Gill Jennings & Every, but the single word that sums them up is effortless. From consultations and discovery meetings to communication with the team, billing, and managing the client's position, it's just effortless."
"All of the team are very knowledgable; patent lawyers and paralegals are great at what they do. The team always has your best interests at heart and listens very carefully, providing very clear advice."
"The individuals have excellent general chemistry and technology knowledge and the company has the breadth to employ specialists with real in-depth expertise."
"Stephen Haley is always contactable, always up to speed, and deeply understands his client's businesses. He's up-to-date on the latest developments and brings ideas and recommendations proactively."

"Peter Arrowsmith is a great advocate."

"Graham Spenceley is extremely knowledgeable about his subject, always keen to go the extra mile, and is supported by a large team. His advice is sensible and pragmatic, with sufficient guidance to inform commercial decision-making."
Senior Associate Rebecca Matheson has been ranked as a Rising Star, having received outstanding feedback from clients:
"Rebecca Matheson is extremely competent on the science, incisive in her approach, very dedicated, and responsive. Where required, she takes the initiative. She understands the client's needs and objectives and makes a huge effort to provide, and does provide, an excellent service that meets those needs and objectives."
Congratulations are also due to our trade mark team. Partners Alasdair MacQuarrie and Edward Carstairs, as well as Director Rachael Ward and Associate Luca Colombo have all been recognised by the publication as key attorneys.
Here's what our clients had to say about GJE's trade mark attorneys:
"Gill Jennings makes me feel like I am their only client. Whatever the issue is, they provide quick, smart, and practical answers."
"Alasdair MacQuarrie develops and executes action plans quickly and with good success rates."
Trade mark Partner Edward Carstairs has been ranked as a Next Generation Partner, having received significant recognition from clients and peers in the market for his leadership on key matters:
"Edward Carstairs simplifies things and explains different scenarios well."
You can view our rankings on the Legal 500 website here.